Mark your calendars for the first Plantae.org live online chat discussion with featured community member Anne Sternberger!
Support your peers  |  Discuss plant science topics  |  Learn about how others work
Tuesday, June 27th at 5pm EST / 11am HST |  Join: www.plantae.org/annes
Anne is a third-year Ph.D. student at Ohio University working with Sarah Wyatt and Harvey Ballard, focusing on ecological cues and candidate genes in the mixed breeding system of Viola pubescens, which produces both open, outcrossing chasmogamous and closed, self-pollinating cleistogamous flowers.
Anne describes her research here:
Early interests
Anne studied biology as an undergraduate at California University of Pennsylvania. She carried out a year and a half-long honors research project looking at the effects of nicotine and Bisphenol A (a compound used in the production of plastics) on chicken embryonic development and epigenetics. Courses in plant taxonomy and physiology stimulated her to pursue a Ph.D. in plant developmental genetics.
Current work
As she described above, Anne is taking a transcriptomic approach to identify the genetic basis of the chasmogamous/cleistogamous mixed breeding system, using Viola pubescens as a model system.  She is studying the change in gene expression during floral transitions to try to identify factors involved in specifying flower type. She also is analyzing environmental cues that signal a shift in flower type. As there are more than 500 species that use this reproductive strategy, she will test the conservation of V. pubescen's system to determine if other species use similar strategies.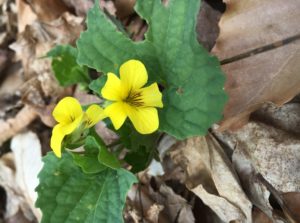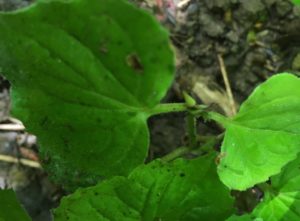 There are various applications of her work. For example, the assembly and annotation of the Viola pubescens genome will be useful in the study of various bioactive cyclopeptides (some with anti-tumor and anti-HIV properties) produced by the violet family. It might also be possible to apply her insights towards crop improvement. For example, engineering closed, self-fertilizing flowers into GMO plants could minimize gene flow into wild populations.
Side interests
Anne keeps busy outside of the lab as President of the Ohio University student branch of the American Association of University Women (AAUW), and as a member of the Plant Biology Graduate Student Association. Through these roles, she participates in outreach events for local students, exposing them to DNA extraction and bioinformatics. She also organizes professional development workshops in skills such as CV building, job search strategies and interview preparation for other students.
---
Join our live online chat discussion
Tuesday, June 27th at 5pm EST / 11am HST
Visit www.plantae.org/annes to sign-up and attend
Do you want to learn more about the chasmogamous/cleistogamous mixed breeding system? Are you interested in getting involved in AAUW? Would you like to organize professional development workshops at your university? Are you interested in life at Ohio University?
---
Interested in being a featured Plantae community member? Learn more here.