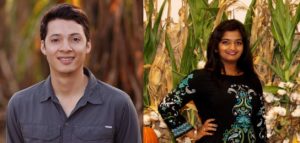 This week we spoke to Francisco Gomez and Ammani Kyanam, graduate students in the Soil and Crop Science Department at Texas A&M University, USA. They were part of the organizing committee for the recent Texas A&M Plant Breeding Symposium, a successful meeting run entirely by students at the University.
Could you begin with a brief introduction to the Plant Breeding Symposium held at Texas A&M in February?
Texas A&M University is one of the largest academic and public plant breeding institutions worldwide, which trains breeders in a variety of programs. Every year, students at the University organize the Texas A&M Plant Breeding Symposium, which is part of the DuPont Pioneer series of symposia. The symposium provides a platform for graduate students to bridge the interaction between the public and private sectors and engage in conversations about the grand challenges facing humanity that could be addressed by plant breeding. It's also a great chance to network with faculty, students, and industry representatives.
Click here to read the rest of the interview on the Global Plant Council blog.