Recorded Thursday, January 13, 2022
About This Webinar
In January 2022, The Plant Cell presents a Focus Issue on Cell Biology. In this Focus Issue, we go back to the "roots" of the journal, and the basis for its name, turning our attention to the many fascinating facets of plant cell biology. The 11 review papers and 11 original research articles in this Focus Issue exemplify the breadth of the field and highlight both established concepts and recent achievements.
We celebrated this Focus Issue with a pair webinars, each featuring two authors whose work appears in the Focus Issue.
---
SPEAKERS
Byung-Ho Kang: Electron microscopy analysis of plant organelles and correlative microscopy approaches
Byung-Ho Kang is an Associate Professor at the Chinese University of Hong Kong. He received a PhD (Biochemistry) in 2003 from the University of Wisconsin-Madison and worked as a post-doctoral researcher from 2003 to 2007 at the University of Colorado at Boulder, where he learned electron microscopy. Byung-Ho joined the University of Florida as an assistant professor in 2007 and served as a director for the university's electron microscopy core facility until he moved to Hong Kong in 2015. His group studies membrane dynamics involved in the cell wall polysaccharide secretion from the Golgi/trans-Golgi network, recycling of damaged mitochondria, and assembly of thylakoids in plant cells using 3D electron microscopy.
Yansong Miao: Molecular condensation in actin remodeling during plant immune signaling
Yansong Miao works on interdisciplinary research focusing on the fundamental mechanisms by which molecular condensation and mechanical force regulate signal transductions in eukaryotic cells, including plant immunity, stress responses, and fungal polarity. He did his PhD with Liwen Jiang at The Chinese University of Hong Kong, working on plant endomembrane trafficking. He was then worked in David Drubin's lab at the University of California, Berkeley, as an HFSP Postdoctoral Fellow. At Berkeley he studied actin cytoskeleton assembly and sphingolipid biosynthesis in response to cell signaling in budding yeast. Since 2015 he has led his own group at Nanyang Technological University, Singapore, and became an EMBO Global Investigator in 2020.
---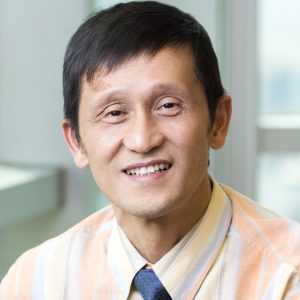 Moderated by Liwen Jiang
Liwen Jiang is a Professor of Life Sciences at the Chinese University of Hong Kong. He received his PhD at Simon Fraser University in Canada, and did a postdoc at Washington State University. He has been a faculty member at the Chinese University of Hong Kong since 2000. His research focuses on the plant endomembrane system, spanning from vacuole biogenesis to the formation of autophagosomes.
---
This webinar is freely available thanks to the support of the American Society of Plant Biologists. Join today.