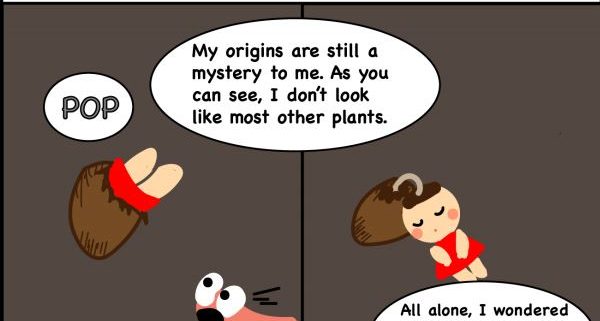 Created by Ruth (Jean Ae) Kim as part of the ASPB Conviron Scholars Program
For my independent project, I decided to make a series of comics about a character called Plant Girl. I am hoping this makes plant biology accessible for young children to young adults in a fun way! The first chapter is about Plant Girl going through germination. I had the drawings reflect the stages from radicle emergence, elongation of the hypocotyl as the plant undergoes skotomorphogenesis and then the apical hook pushing through the soil up to the surface. Once Plant Girl reaches the surface her leaves turn green and expand in response to sunlight (photomorphogenesis)! For the second chapter, I wanted to reflect interesting and diverse traits about plants as Plant Girl embarks on her adventure to different ecosystems and encounters different plants. A theme that I also wanted to include in this comic is loneliness and friendship. Plant Girl knows she is different from most other plants and wants to explore the world to see if there is anyone else like her. She hopes to make friends with other plants but it's difficult.
Will she find a friend at the end? Please read the comic to find out! (Don't worry it's a happy ending)
I also included fun facts about plants that expand on the concepts of plant biology covered in the chapters.  I had a lot of fun making this and I plan on making more adventures for Plant Girl!