Many in the scientific community attended the webinar this week with speakers Mary Williams and Michelle Facette, moderated by ASPB Plantae Fellow Xiaohui Li, but for those who didn't or who want a resource to keep on-hand to help navigate a scientific paper, ASPB Plantae Fellows Rose McNelly and Shiqi Zhang created an infographic to guide beginner and advanced scientists through the steps of reading a scientific paper. This infographic summarizes key sections, details how to approach scientific content with an analytical eye, and includes handy hints for experienced scientific readers.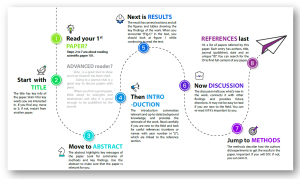 Get notified when new webinars happen! Sign up for The Signal, ASPB's newsletter, to know when new webinars are scheduled.
______________________________________________
About the Authors:
Rose McNelly is a PhD student at the John Innes Centre, and a 2023 Plantae Fellow. She trying to uncover novel genes involved in endosperm starch formation in wheat. You can find her on Twitter at @Rose_McN.
Shiqi Zhang  is currently an Assistant Professor at East Stroudsburg University, Pennsylvania and a 2022 Plantae Fellow. Her research is in plant physiology, and in particular intracellular phosphate dynamics in roots during arbuscular mycorrhizal symbiosis. You can find her on Twitter at @ShiqiZhang186.