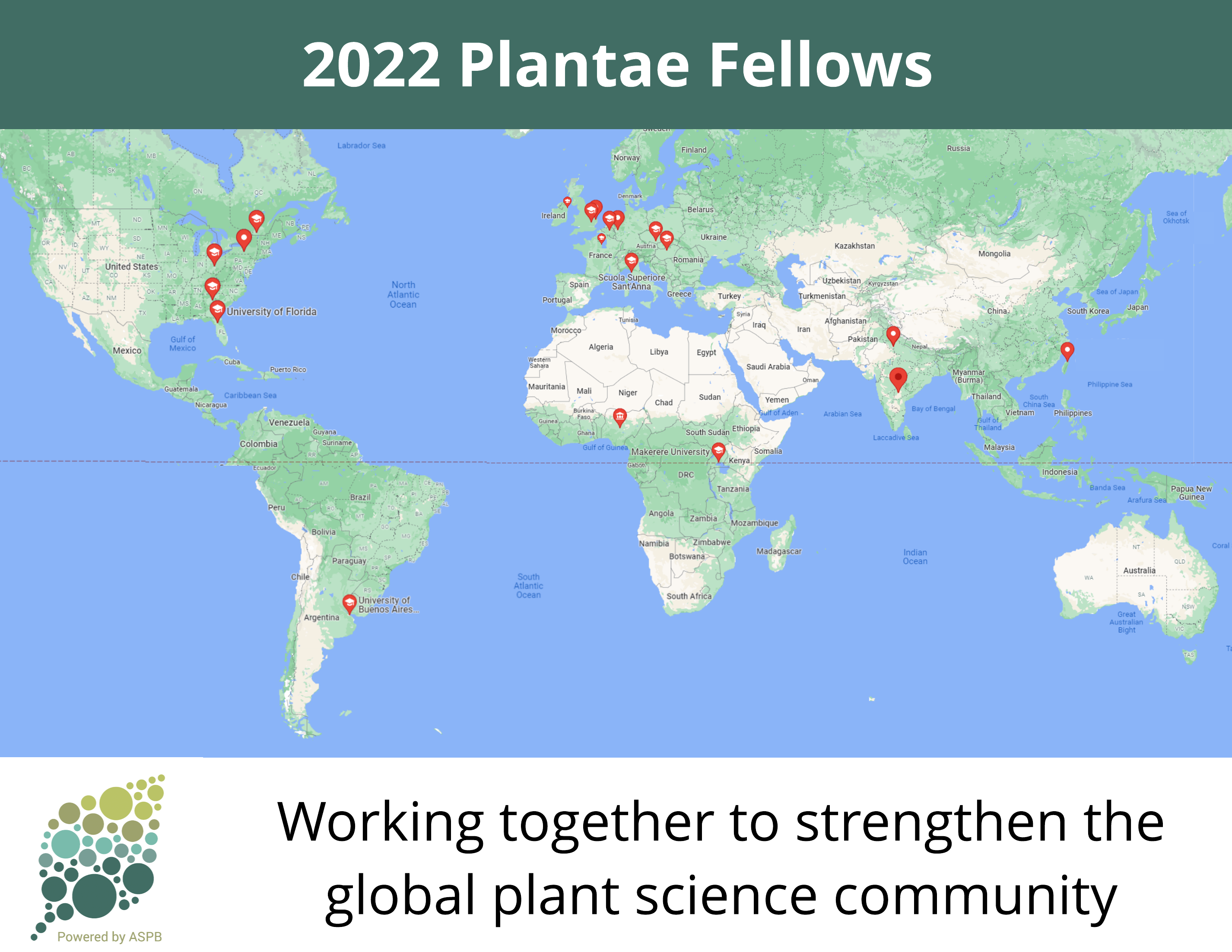 As part of our ongoing commitment to creating a vibrant and engaging community for plant scientists, we launched the Plantae Fellow Program in 2016. So far, we have had 119 Fellows join the program and this year we are pleased to welcome 25 new Fellows to the 2022 class! 
The role of the Fellows is to help nurture and grow the Plantae community.  For example, Fellows contribute to the Plant Science Research Weekly series, share ideas for resources that are relevant to early career plant scientists, create and grow networks and create topical content for the Plantae community.  Plantae Fellows also receive an inside view on the technology roadmap for the Plantae platform and provide feedback and direction as needed. Fellows are selected for their interest in and enthusiasm for growing the plant science community, for their science communication and content curation skills, and for their ability to represent the perspectives of plant scientists in various fields and globally across many countries.
Learn more about our new Plantae Fellows by reading their bios below and click the links to connect with them on Plantae. 
Prakshi Aneja is a PhD scholar at the National Institute of Plant Genome Research, India. The objective of her PhD is to investigate the genetic basis of leaf traits determining photosynthesis in rice. Apart from research, Prakshi is passionate about music too, and loves to play the guitar. She is an amateur photographer and enjoys snapping photos of nature. Twitter: @PrakshiAneja
Julia is from Argentina and has a degree in Biology (oriented to Botany) from the University of Buenos Aires. She is close to finishing her PhD from the National University of Rosario and currently works in root regeneration, aiming to understand its genetic regulation, but is also interested in other areas such as plant diversity, anatomy and morphology. 
Rory carried out his undergraduate degree at Trinity College Dublin, where his thesis focused mammalian biochemistry and metabolism. He is now a PhD researcher at University College Dublin in Ireland and works on the regulation of programmed cell death (PCD) in plants, a genetically controlled process responsible for the elimination of damaged, infected or structurally redundant cells throughout the plants' lifecycle. Outside of the lab Rory loves to run, especially in the hills and mountains when possible. Twitter @rorby95
Jiawen grew up in the Netherlands and completed her undergraduate degree in Biochemistry at the University of Edinburgh. She is currently a 3rd year PhD student at the John Innes Centre in the UK and works on the biochemical interactions involved in starch granule initiation in plastids, focussing on Arabidopsis and wheat. Twitter: @Jiaaawen
Chandan recently graduated with his PhD degree and is currently a postdoctoral fellow at Institute of Plant and Microbial Biology, Academia Sinica, Taiwan. He is curious about plant's development and the rhizosphere. His postdoctoral project focuses on understanding the role of iron deficiency signals and environmental pH in the regulation of coumarins pathway. Chandan is interested in communicating science to the general public and also works on promoting environment literacy through social media. In his spare time enjoys hiking, biking, cooking and gardening. Twitter @chandan_gautam
Mukamanasasira is a graduate of Bsc, Biotechnology from Makerere University in Uganda and obtained his Msc. in Plant Breeding and seed systems from the same university where his research focused on the genetics of tomato resistance to Ralstonia solanaecerum. He was part of the organizing committee for the first Plant Sciences symposium at Makerere University funded by Corteva Agrisciences. He enjoys communicating highly complex scientific concepts to a wide variety of professional and non-professional audiences. 
Eva is in the second year of her PhD in Agrobiodiversity in the PlantLab (Scuola Superiore Sant'Anna, PISA, Italy). She was born in Valencia, Spain, where she studied plant synthetic biology for several years during her bachelor's degree in Biotechnology. She is also an ex- IGEM student (ChatterPlant, 2017)! After an Erasmus internship at the Department of Plant Sciences at the University of Oxford, she moved to Madrid to pursue a Master's degree in Plant Biotechnology at the Polytechnic University of Madrid. She currently works with cereals and submergence-hypoxia stress, using genetics and bioinformatics approaches. During the last years, Eva has been involved in projects regarding plant-microbe interaction in Arabidopsis thaliana and synthetic biology of Potyviruses. Besides research, Eva plays the flute, an activity that she loves as much as she loves plants and started when she was 7 years old. Twitter @eva_ga96.
Andrea works with hormones, morphodynamics and development in plants. She was born in Mexico, where she studied Plant Biotechnology and got her PhD degree. Currently, she is a postdoc at the University of Montreal and wants to understand the molecular, cellular and tissue level mechanisms underlying organogenesis in plants using cutting-edge approaches. Her professional interest lies in combining molecular biology, microscopy and computational tools to elucidate specific mechanisms of plant development. Besides her research,  she loves swimming, biking, hiking, and reading. Twitter: @andreagomezfe
Eric is a Doctoral Student in Plant Pathology at Ohio State University,USA. His research centers on bacterial colonization in cereal crops as well as identifying potential antimicrobial compounds. He has worked in a variety of labs across the United States on a broad array of plant science from studying microbiomes, defense gene expression in the SA pathway, to identifying mode of actions of potent antimicrobial defensins. During his undergraduate work, he had the honor of interacting with policy makers, scientists, and farmers. Eric is passionate about communicating science across all levels of understanding. 
Francis is originally from Kenya and currently is in the third year of his PhD in Plant Science at the Hungarian University of Agriculture and Life Sciences. His research is focused on sweet potato viruses and is working to figure out their mechanisms of infection. Francis is the chairman of the Nairobi-based Agricultural Biotechnology Awareness Association (ABAA) and  aspires to promote mitigation and adaptation to climate change impacts on food security and nutrition in Kenya and Africa at large through agbiotech research, education and outreach activities.
Kamal is a postdoc fellow at CSIR-CCMB, Hyderabad, India. He is currently working on elucidation of rice functions contributing to tolerance against Rhizoctonia solani, the sheath blight pathogen of rice. He is also working on various cellular pathways involved in cell wall damage-induced immunity in Arabidopsis. During his PhD he worked on the rice-Xanthomonas pathosystem. His work revealed a rice receptor that likely senses cell wall damage in rice and activates rice and Arabidopsis immunity via different pathways upon overexpression. Apart from science, his hobbies are watching football, exploring new places, and communicating science to the general public. Twitter: @KamalMalukani
Eddy is an undergrad student of Agri-Genomic Sciences at UNAM (México). He is studying population genomics of Agave for his thesis dissertation (at LANGEBIO MX and Desert Botanical Garden PHX) and has experienced over 9 research internships where he fell in love with plant science. Since 2016, he has been teaching plant physiology to Mexican high school students and is pursuing a medal at the National and International Biology Olympiad. He uses his developing art, literature, and music abilities to create videos, comics, and songs to share plant science with kids, students, and more. Being part of the foundation of a national network of students has always been his dream, now it is a huge project aiming to communicate science to his whole country (biologosdefrontera.com). Twitter: @IamSomnya
Suzane is a doctoral researcher at the Biosystems Department of Katholieke Universiteit Leuven. Her project focuses on understanding how apple fruit use molecular signals to sense low oxygen conditions. This research can aid in developing improved postharvest storage techniques and prevent food waste. Twitter: @polssuzane 
Yadukrishnan is a postdoctoral fellow at Indian Institute of Science, Bangalore, India. He is interested in studying light responses in plants and the interaction of the light signaling pathway with various hormonal pathways during plant development. In his PhD at IISER Bhopal, he studied the influence of light on the ABA-mediated inhibition of early seedling development in Arabidopsis.
Ankita is a PhD candidate at the University of Georgia in the United States. Her PhD thesis is on legume roots focusing on the morphological phenotyping of root hairs in Phaseolus vulgaris and science education. She is phenotyping the morphology of root hairs in response to nutrient stress while also studying the perception of active learning by students and the teaching assistant in an introductory biology laboratory course. Outside of her research, Ankita is passionate about science communication and outreach. Currently, she works as a content creator for the 'Athens Science Observer' and she served as the outreach coordinator of 'Women in Science' at the University of Georgia in the last academic year. 
Rigel is currently pursuing a PhD degree in Cologne, Germanyat the Max Planck Institute for Plant Breeding Research. Her research focuses on the mechanisms of meiosis and recombination in Arabidopsis. She is originally from Mexico where she studied experimental biology in the Metropolitan University (UAM-I) together with the Institute of Agriculture in Argentina (INTA-Castelar). Her work there focused on researching the integrity of membranes of the tomato fruit. After her bachelors degree, she came back to Mexico (CINVESTAV-Irapuato) to pursue a Master's degree focused in Biotechnology  and the reproduction of cowpea female gametophytes. She is also very interested in all the topics related to outreach, science communication, education and psychology.
Sibaji is a Postdoctoral researcher from Jawaharlal Nehru University India. He is a plant Biologist and he loves to understand how plants perceive stimuli. He knows that plants are extremely intelligent and can store information and can respond to the known stimuli in a better way. Sibaji is currently trying to understand how the stimuli perception pathways have evolved from algae to present-day plants. Besides research, Sibaji loves learning new languages and photography (just picked up the hobby). He is always up for a discussion on the future of science in general and plant science in particular. He tweets at @sibajisanyal. 
Lekshmy is currently a Senior Scientist, Plant Physiology at ICAR- Indian Agriculture Research Institute, New Delhi, India. Briefly, after completing a Master's and PhD from ICAR-IARI, she embarked on an independent research career in 2009. Lekshmy's current interests include Plant Nutrition-physiology, Nitrogen use efficiency of cereals, Elevated CO2* Nitrogen interaction and nitrate signaling. Apart from the research she is passionate about teaching and guiding PG and PhD students, which is a highly fulfilling component of her job profile. Currently she guides six PhD and one MsC students. Besides research, she loves music and creative writing. Twitter: @lekshmysnair
Mariana is a Postdoc at the Department of Plant Sciences of the University of Oxford. She was born in Colombia, in a family of German descent, and finished studies in Biology and Botany both in Colombia and Germany. She received a PhD in plant-pathogen interactions from the Max Planck Institute for Terrestrial Microbiology and the Philipps University in Marburg, Germany. During her PhD, she established the CRISPR-Cas9 system in the fungal pathogen U. maydis and used it for the study of effector gene families. In Oxford, in the Plant Chemetics lab, she is currently investigating the role of cysteine proteases in immunity. She is also an ASPB Ambassador, loves outreach and promotes plant and fungal awareness whenever she can. Twitter: @MariSchuster 
Orla is  doing a PhD in plant biology based in the School of Biology and Environmental Sciences in University College Dublin (UCD), Ireland. She completed her BSc in biochemistry and molecular biology in UCD in 2017 and went on to do an MSc in science communication in Dublin City University. Her Master's thesis focused on how communication responsibility is reflected in job descriptions of university scientists and her PhD is focused on the genetic regulation of waterlogging tolerance traits in barley, a species which is important for the Irish agricultural economy. In her current research project she specifically looks at roots and how aerenchyma forms under waterlogged conditions to enable plant survival. Twitter: @orlasherwood
Okon is a Senior Scientific Officer at the National Biotechnology Development Agency, Nigeria. He holds a Master of Science degree with specialization in Plant Breeding and Biotechnology. His research interest is on deciphering plant pathogenesis and epigenetic dynamics in plant responses to viral infections as well as CRISPR/Cas9- mediated genetic engineering for disease resistance in plants. He hopes to network with eminent plant scientists, share ideas and learn about current trends and emerging tools and methodologies in plant science research. Twitter: @OUnung
Kristen is a Postdoc at the University of Florida Institute of Food and Agricultural Sciences. Her research area is in synthetic biology with a focus on "plantizing" microbial enzymes through continuous directed evolution. She is currently working on evolving enzymes of thiamin biosynthesis. During his graduate studies at the University of Guelph, Canada, she studied plant specialized metabolism, with an emphasis on isoprenoid biosynthesis in tomato. She has also studied specialized metabolism in Cannabis sativa and Mitragyna speciosa.
Subodh currently works as Marie Curie Fellow at CEITEC Masaryk University Czech Republic. He completed his doctoral work at NIPGR, New Delhi, India, where she used integrated approaches to study chickpea seed development. Now as a postdoc, he is investigating the transcriptional regulation of auxin biosynthetic genes during embryo development in Arabidopsis, and how this mechanism is affected by high temperature. Twitter: @subodhshanky
Alan currently works as a research assistant at the Sainsbury Laboratory in Cambridge (UK). He was born in the western part of Poland and studied Biological Sciences at the University of Münster, Germany. During his studies, Alan developed a fascination for theoretical biology & plant biochemistry. He completed his PhD thesis on innate sensing of fungal cell wall carbohydrates at the International Max Planck Research School (MPIPZ) in Cologne. Currently, Alan is working on the establishment of plant-microbial interactions and the evolution of symbiotic interactions with filamentous microbes in the lab of Sebastian Schornack at the SLCU. Having worked in different types of organisations over time, he has a personal interest in changing working culture and experimenting with working methods (e.g. agile approaches) in academic contexts. Beside his life as a scientist, Alan enjoys cycling, dancing Lindy Hop and Solo Jazz, having friends over for dinner, and working as a volunteer for Viva con Agua, a German NGO raising awareness for global water, sanitation and hygiene deficits. Twitter: @alan_wanke
Shiqi is currently a USDA NIFA fellow with Dr. Maria Harrison at Boyce Thompson Institute. She has been working on profiling the intracellular Pi dynamics during arbuscular mycorrhizal symbiosis in Brachypodium distachyon. She uses a quantitative imaging method to measure the fluorescence change of a Pi-specific sensor as a way to monitor live changes of the intracellular Pi levels. Shiqi graduated from UC Davis working with Dr. Eduardo Blumwald. During her PhD, she also used quantitative imaging to characterize the biological function of the vacuolar Na+ (K+)/H+ exchangers in the growth and development of Arabidopsis thaliana. Besides research, Shiqi is interested in teaching. She was a teaching assistant for four years during her PhD, and now is now trying to find ways to teach as a postdoc. Her career goal is to become a faculty member at a PUI so she can do interesting research with undergraduate students and teach! Twitter: @ShiqiZhang186