Jo et al. uncover the role of a spliceosome component in removing retained introns in Arabidopsis in response to heat stress https://doi.org/10.1093/plcell/koac084
 Background: Alternative splicing plays a key role in abiotic stress responses in plants, especially responses to heat stress. The spliceosome is a protein complex that functions in pre-mRNA splicing, leading to the formation of mature mRNA. Nuclear cyclophilins (CYPs) are referred to as spliceophilins because they mechanistically associate with spliceosomal components. A few human spliceophilins are known to have specific functions in regulating spliceosomal proteins through post-translational modification. However, whether plant spliceophilins are involved in pre-mRNA splicing and heat stress responses remains unknown.
 Question: How does the spliceophilin CYP18-1 function in pre-mRNA splicing and heat stress acclimation in Arabidopsis?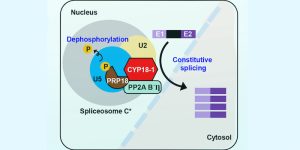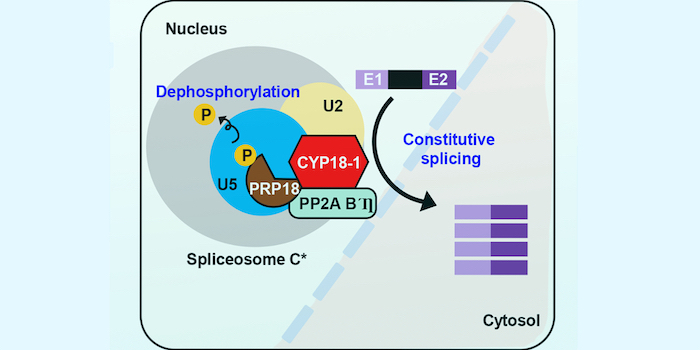 Findings: CYP18-1 is crucial for plant adaptation to heat stress during germination. In addition, CYP18-1 interacts with spliceosome complex C proteins and facilitates the dephosphorylation of the splicing factor PRP18a in cooperation with the phosphatase PP2A BʹȠ. The loss-of-function of CYP18-1 causes a splicing deficiency under heat stress and leads to thermosensitivity.
Next steps: It is important to elucidate whether the phosphorylation status of PRP18a affects heat stress acclimation. Also, since CYP18-1 gene expression increases in response to abiotic stress in addition to heat stress, we want to know whether CYP18-1 functions in other abiotic stress responses. Finally, since CYP18-1 is located in both the nucleus and cytosol, we would like to reveal its functions in the cytosol.
Reference:
Seung Hee Jo, Hyun Ji Park, Areum Lee, Haemyeong Jung, Jeong Mee Park, Suk-Yoon Kwon, Hyun-Soon Kim, Hyo-Jun Lee, Youn-Sung Kim, Choonkyun Jung, Hye Sun Cho (2022). The Arabidopsis cyclophilin CYP18-1 facilitates PRP18 dephosphorylation and the splicing of introns retained under heat stress. https://doi.org/10.1093/plcell/koac084