Setting something to music is a well-known method for supporting learning (think about the alphabet song that you learned as a child). Gregory J. Crowther has assembled a searchable database of science-themed songs, along with lesson plans and suggestions for how to use songs in your teaching. Yes, there are songs about plants too! Check out the searchable database for songs about science at http://singaboutscience.org/wp/homepage/
And, there is a Virtual Ongoing Interdisciplinary Conferences on Educating with Song! (VOICES) conference September 27-28, 2017.  Registration for VOICES will cost only $10 thanks to partial funding by the National Science Foundation through Project SMILES (Student-Made Interactive Learning with Educational Songs). Read more about the virtual conference here https://www.causeweb.org/voices/.
Crowthers has written about the Sing About Science project in Biochemistry and Molecular Biology Education – the abstract of Crowther (2012) is here: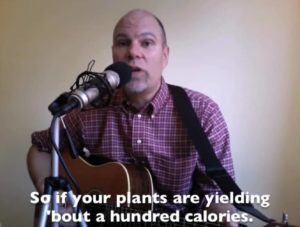 Potential benefits of incorporating music into science and math curricula include enhanced recall of information, counteraction of perceptions that the material is dull or impenetrable, and opportunities for active student engagement and creativity. To help instructors and others find songs suited to their needs, I created the "Math And Science Song Information, Viewable Everywhere" database in March of 2004. Recently rebranded as the SingAboutScience.org database, it now covers >5,500 songs varying widely in topic and grade level. Website visitors may search the database using such criteria as keywords from lyrics, performer/songwriter names, and age ranges targeted by songs. Changes in the database's contents over the past 7 years suggest that the online availability of educational songs has increased greatly during this period. College biochemistry and molecular biology instructors can use the database to find songs covering core concepts for majors and nonmajors as well as relevant material from related subjects, such as physics and mathematics. In offering teachers and students a menu of existing scientific songs, the database may inspire some of them to create additional content-rich music.