Part of the "Self Reflection" series by and for early-career researchers
In the era of digital media, science communication has advanced in an unprecedented way. Several years ago, we used to subscribe printed magazines and journals. Scientists prefer to subscribe digital version of magazines, journals and blogs these days as it provides instant access. Digital content is more accessible to read and anyone is able to create content and share. It has made science communication easier and the popularity of digital content is undeniable. In this post, I am going to provide a road map for upcoming science blogger.
Science blogging demands time and efforts like any other regular jobs. Opening a science blog is a long term commitment. It requires care and nurture and regular updates with the recent content. To keep the blog alive we need to read related materials, articulate points for a blog post, share with relevant groups and people, exchange views and opinions through comments. We also need to learn new skills to manage the blog. Inclusion of user friendly features are important to attract readers. Ultimately, these efforts are worthy enough when we are able to deliver our messages. A science blog actually contains our opinions, demonstrates our interests, reinforces our understanding to strengthen our career, and reflects a space to express our views.
Most of us think about starting own blog, but may not know how to get started. I would like to share few key points to start a science blog.
Start it now
If you don't have a blog, but it's in your plan, just open a blog now as it's an easy task with the available online tools including blogspot, wordpress or other websites. Select an appropriate name that will engage people visiting your page and indicate the type of content you will be writing about. It is recommended to select this carefully as the name helps you to build an overall portfolio of yourself. Post something what you have read recently or any particular news from your field. Remember, it's the beginning and now you have an address to share your ideas and thoughts.
Beginners may start with the Julia Miller's seminar WordPress 101 hosted by Plantae.
Video link of WordPress 101 by Julia Miller
Use social media to promote your blog
Now-a-days you find almost everyone on social media (Facebook, Twitter, Google plus). It is easier to reach audience and engage them to express your views more rapidly and openly with a massive community of people. Sharing your material is like introducing your product to the market. It takes time to establish the blogging identity, but your continuity will make it easier to have your own followers. I believe every writer or blogger face the same thing and for science writer the path is much harder. At the same time, attracting audience is an art. It depends on the content. Over time, we learn about our audience and are able to create content which can catch and attract a larger audience.
Provide a subscription option
Engagement of the audience is the first step to spread your words. Sharing on the social media does not always guarantee that everyone is watching your post on their news feed. The best way to overcome this issue is the addition of an email-based subscription option. Even most of the free web version contains this simple Add-on. Immediately after posting, your subscriber will get the notification even if they don't use social media when they are busy.
Post regularly
If we are serious and passionate about something, it is reflected by our action. The same is true for science blogging. Our commitment to our blog is visible based on the frequency of posts. Even if someone writes 2 blog posts per month, every year he/she can produce 24 posts. It is always recommended to keep the post concise and maintain ideal length (600-800 words). Small posts are easier for reader to absorb and good for you to keep posting in a regular basis. Your appearance as a guest author in renowned blogs (ASPB, Plantae, Botany One) will always help you to bring more viewers to your personal blog.
The following tweet is a recent one from Ian H. Street. We are supposed to set a target like this to post regularly in the blog.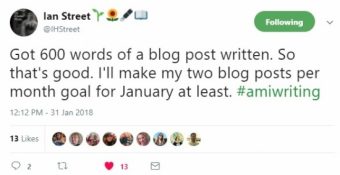 Organize your posts into themes or series
Over the past three years, I created two regular series and an annual series. In one of the regular series (Why Arabidopsis Why), I discuss the stories where we translated knowledge from the study of the model plant Arabidopsis thaliana to other crop plants and even human health. The other regular series (Mutant Series) is about the funny and whimsical name of mutants, their phenotypes, basic biology and stories or logic behind this name. Finally, I review plant biology papers from some of the journals published in the current year as a part of annual series. If you start working on your blog and contents, you will surely find the field to concentrate and start your own series. One of the best possible reward from the concentrated series is that you can convert this one as a published book in future. As a science blogger, publishing book from your blogging series is definitely a milestone!
Learn to use statistics to evaluate your progress
Without statistics, none of our experimental data goes to publication. To learn about your audience, you need to constantly check the statistics of your blog. If you educate yourself about your audience, you can deliver better content and in a more focused manner. For instance, the region, operating system, highest view for a post, lowest view for a post will help you to find weaknesses and opportunities at the same time. Statistics will help you to create the better version of your blog every day.
Develop your career through blogging
As a science blogger, we often face a common question: "How will science blogging help you in your career?" First of all, writing skill has universal applicability such as writing research articles and research grants in academia. Apart from that,blogging is really helpful if you want to switch your career towards science communication, journal editing, and popular science journalism. Your science blog will provide a solid experience to reflect on potential writing experience for employers and any of your readers may turn into your recruiter (a possibility!! ?).
The Hedgehog concept
The Hedgehog concept is adopted from the book "Good to Great" by Jim Collins. He tried to depict a Venn diagram and find the intersection of three circles. These three circles represent three fundamental question:
(1)   What you are really passionate about?
(2)   Do you have skills for that particular job?
(3)   Does it provide financial support?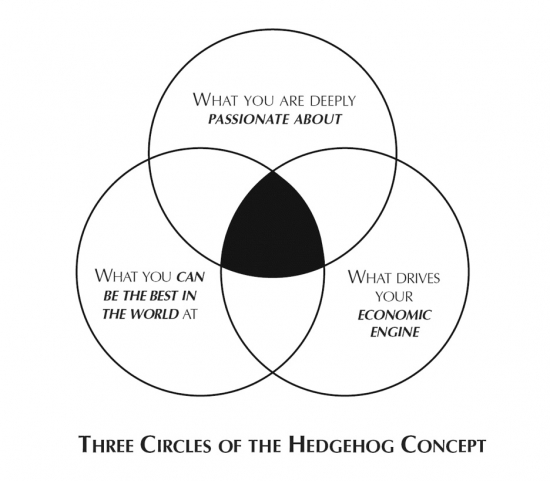 Probably I am interested about science writing, but if I don't have skills to execute, it will not help me much. Even if I am passionate and have skills for science writing, there is something missing. Yes, financial status. If all these things fall in the right place and my writing becomes the source of my bread and butter, I am definitely on the journey from Good to Great. Our purpose is to find that intersection. There is a Greek saying about this:
"The fox knows many things, but the hedgehog knows one big thing." 
The whole point of discussing the Hedgehog concept is to think of any possibility to adequate yourself with some available funding to boost further your hobby into a side profession. It's a reward which works as positive feedback for this journey. You can easily put your blog to Google AdSense. You can have paid writing gigs from other blogs and journals. Eventually, publishing your own book will be the sustainable economic source and reputation for future.
Example of great blogs
We are always inspired by others who are doing great things. Tobias Baskin, professor of UMass Amherst, Biology department writes about his weekly experimental experiences in Lab Fab blog. Ian H. Street is one of the best examples of one-man-army in the plant biology blogging. His blog, The Quiet Branches, is an amazing one and posts cool stories regularly. Recently, Arielle Johnson, a plant biology graduate student at Cornell University, has started Plant Humor. These three blogs talk about plants, but from different angles. Plantae has an amazing weekly series: What We're Reading. It covers exciting plant biology research and review articles in summarized form. It's a good platform to start anyone's journey and accepts guest contributions. Botany One is a well-maintained and regular plant science blog that also accepts posts from guest authors. Their review process helps a writer to go to the next level.
With this as a broad overview from my experience, I hope this helps you to consider starting your own Blog!! Happy blogging! Share cool plant stories. Make plant science easier and fun to larger community. At the end of the day, it is part of our responsibility to strengthen our early career scientist community.
Author:
Arif Ashraf (@aribidopsis) is a graduate student of United Graduate School of Agricultural Sciences, Iwate University, Japan and Graduate student ambassador of American Society of Plant Biologists (ASPB). His research interest is understanding the hormonal interplay in primary root development of Arabidopsis thaliana. He blogs about plant science at www.aribidopsis.com.