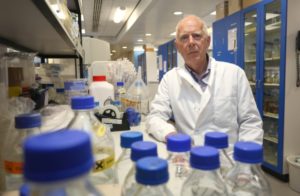 By 2050, the planet's population is predicted to have reached 9.6 billion and pressure on our food sources will have intensified.
Eminent plant scientist and molecular biologist Professor Sir David Baulcombe believes science and technology must provide the answers to this challenge.
"I think it's quite clear that modern agricultural methods are not sustainable," says Prof Baulcombe, head of the University of Cambridge's Department of Plant Sciences. "We are degrading the soils used to grow crops, depleting aquifers and the effect on bird and flower life biodiversity are very evident.
"Making agriculture profitable as well so people can continue to grow food is an important dimension to all of this. These are all huge issues. A question we're asking is to what extent we can use science to develop technologies that will address them."
Funding of £31.4million was announced by the Higher Education Funding Council for England (HEFCE) this month for a new Cambridge Centre for Crop Science, or 3CS.
Read more http://www.cambridgeindependent.co.uk/business/science/leading-plant-scientist-prof-sir-david-baulcombe-on-feeding-the-world-and-the-new-30million-cambridge-centre-for-crop-science-1-5123595