ASPB has submitted a proposal to the NSF (National Science Foundation in response to their recent Dear Colleagues Letter (a DCL is a way to communicate about new or special funding opportunities).
The purpose of this DCL was to encourage professional societies to "develop collaborative networks for facilitating cultural changes in the biological sciences to advance diversity, equity, and inclusion," through a program called LEAding cultural change through Professional Societies (LEAPS) of Biology.
The process
We decided that this funding call was an excellent opportunity for ASPB to grow and to support some of our ongoing objectives. Like many organizations, ASPB has been striving towards a more equitable set of structures and procedures, so the possibility of securing government grant funding to pursue these efforts was exciting. We started with informal conversations amongst other plant-science societies and organizations, which identified a group of several people representing different organizations who wanted to work together to craft a proposal.
Initially, three members of ASPB Forward (Jason Williams, Siobhan Braybrook, and Mary Williams) put together some ideas and started to draft a set of objectives. We shared this draft with the interested group via a Google document, which led to A LOT of excellent ideas, suggestions, and insights. We followed up with a group conversation that further helped to refine and shape the direction of the proposal, leading to Version 2. We repeated this cycle (comment on draft, discuss on a call) a couple more times as the proposal took shape. This process seemed to work well, leading to a lot of enthusiasm for the final proposal. It allowed everyone involved to have the opportunity to weigh in early and often. The ideas incorporated in the proposal are very much drawn from all of the organizations represented in the proposal.
The proposal
The title of the proposal is Rooting Out Oppression Together & SHaring Our Outcomes Transparently (ROOT&SHOOT). If funded, it will build a research collaboration network (RCN) of plant science and partner organizations aimed at seeding and cultivating cultural change towards an inclusive, equitable, scientific future. We will develop and propagate tools for cultivating a sustainable sense of shared belonging and removing oppression from individuals with identities that are historically and currently marginalized (based on gender, gender identity, disability status, sexual orientation, ethnicity, or race). Although each participant organization has begun this work, we lack the coordination and resources needed to exert meaningful change; both are essential to achieve lasting impacts and reshape the plant science community. Our goal is to support plant science organizations as they evolve to become truly equitable, inclusive, and anti-racist (ROOT) and through doing so provide evidence, advice, and guides so that others can learn from our experiences (SHOOT).
Initial participants are the American Phytopathological Society (APS), the American Society of Plant Biologists (ASPB), the American Society of Plant Taxonomists (ASPT), the Botanical Society of America (BSA), the International Society for Molecular Plant Microbe Interactions (IS-MPMI), the Maize Genetics Cooperation (MGC), and the North American Arabidopsis Steering Committee (NAASC). (And we've already had expressions of interest from other organizations who would like to join this initiative if it receives funding.)
In our proposal, we presented a bold project that is radical and innovative in its structure and scope: together we will get to the root of the systematic oppressions that lie within our organizations, so that they can regrow as truly inclusive spaces. We will reimagine, remodel, and rebuild the organizations that support students and practitioners of plant science to mitigate many of the lingering structural inequities that must be addressed before our communities can more accurately reflect the demographics of the US population. The overall outcome of this RCN will be to cultivate a new future for plant science, and beyond.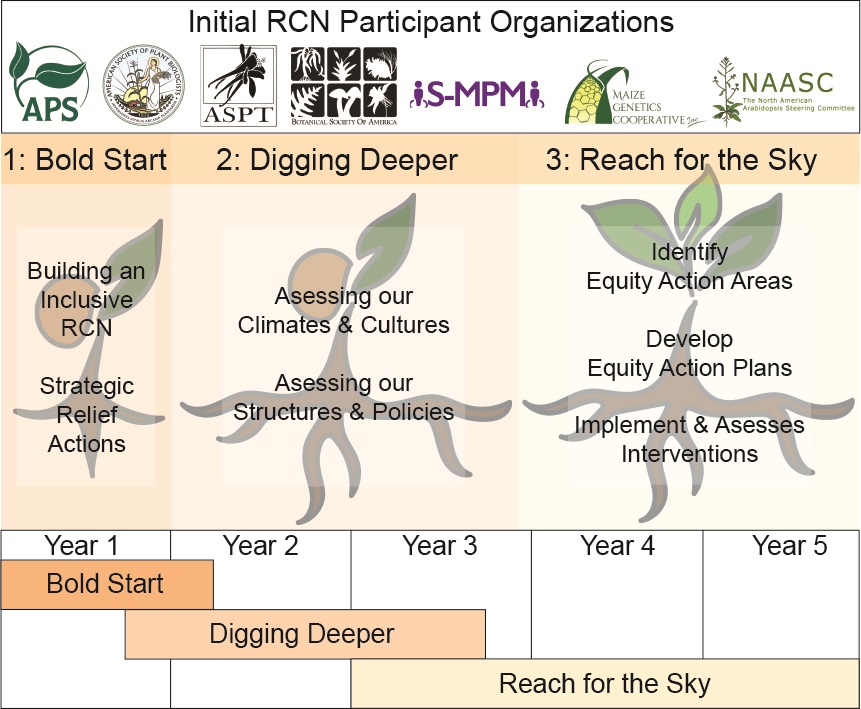 Our objectives are to 1) make a Bold Start by establishing an inclusive operational path for the network, and immediately addressing known climate and cultural deficiencies together; 2) to Dig Deeper by developing and implementing tools for self-assessments of community cultures and structures, and 3) to Reach for the Sky by identifying areas for equity action, and designing, implementing, and assessing interventions.
If the proposal is funded, we will establish a set of Working Groups to drive self reflection, identify targets for change, and design interventions to make those changes. The Working Groups will be drawn from the participant organizations as well as societies focused on broadening participation. We will also host trainings, workshops, listening sessions, focus groups, and provide countless ways for all plant scientists to help to shape the future of our organizations.
If funded, there will be plenty of opportunities to get involved in this exciting initiative. We will keep you posted!