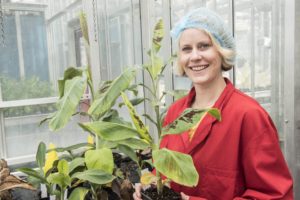 Dr. Sarah Schmidt (@BananarootsBlog), Researcher and Science Communicator at The Sainsbury Laboratory Science. Sarah got hooked on both banana research and science writing when she joined a banana Fusarium wilt field trip in Indonesia as a Fusarium expert. She began blogging at https://bananaroots.wordpress.com and just filmed her first science video. She speaks at public events like the Pint of Science and Norwich Science Festival.
Every morning I slice a banana onto my breakfast cereal.
And I am not alone.
Every person in the UK eats, on average, 100 bananas per year.
Bananas are rich in fiber, vitamins, and minerals like potassium and magnesium. Their high carbohydrate and potassium content makes them a favorite snack for professional sports players; the sugar provides energy and the potassium protects the players from muscle fatigue. Every year, around 5000 kg of bananas are consumed by tennis players at Wimbledon.
Read the rest of this article on the Global Plant Council blog.