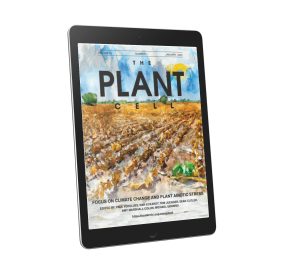 The January 2023 Focus Issue of The Plant Cell, one of ASPB's high-impact journals, spotlights research focusing on the biology of plant response to abiotic stresses and explores the effects of climate change such as increased drought conditions and extreme heat. 
It also features an innovative AI-generated cover image created by Nan Eckardt, Senior Features Editor at The Plant Cell, and AI-model DALL-E 2. 
As AI becomes a hot topic in scientific publishing, both for what it can produce by way of written content as well as its ability to synthesize and analyze complex datasets, among other things, more scientists are experimenting with the technology.