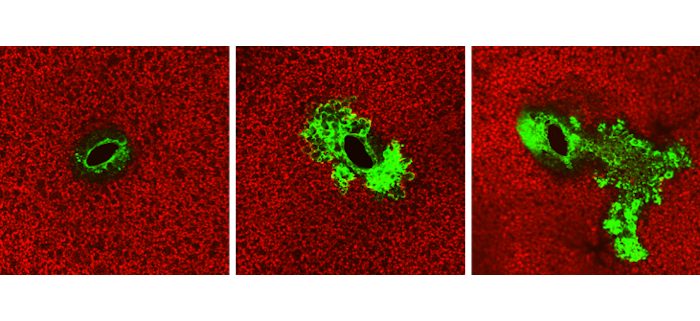 Aung et al. reveal that pathogenic bacteria target plant plasmodesmata to colonize and invade surrounding tissues.
Plant Cell https://doi.org/10.1105/tpc.19.00707
By Kyaw Aung and Sheng Yang He
Background: Multicellular organisms like animals and plants host a multitude of microorganisms. Although most microbes are beneficial or harmless to their hosts, infections caused by pathogenic microorganisms can lead to devastating diseases in animals and plants. Most organisms can defend against pathogens by activating immune responses. Pathogenic bacteria like Pseudomonas syringae can overcome plant immunity by injecting chemicals or proteins, collectively known as effectors, into plant cells. Effectors suppress plant immunity and promote disease. To infect plant tissues of surrounding infection sites, viral and fungal pathogens manipulate plasmodesmata (PD). PD are membrane-lined channels connecting between adjoining plant cells and allow the exchange of a variety of molecules (e.g., proteins, mRNA, and hormones) between the cells.
Question: We aimed to understand how bacterial pathogen effectors manipulate plant cellular processes to cause disease in plants. We wanted to investigate whether bacterial effectors manipulate PD to successfully colonize plant tissues.
Findings: We found that a Pseudomonas syringae effector protein, HopO1-1, is localized to PD in plants. Transgenic plants expressing HopO1-1 show increased PD-dependent movement of proteins between neighboring plant cells. We showed that HopO1-1 physically interacts with and destabilizes PDLP5 and PDLP7, two plant proteins that are localized and function at the PD. Both PDLP5 and PDLP7 play important role in plant immunity against bacterial infection. We also detected mono-ADP-ribosyltransferase activity of HopO1-1 in a test tube and showed that HopO1-1 contributes to bacterial virulence. Together, these findings suggest that a bacterial pathogen utilizes an effector protein as a weapon to disarm two plant proteins involved in regulating host communication channels.
Next steps: We are working to determine whether regulating PD is a common feature of bacterial infections in plants and to understand the underlying mechanisms at the cellular and molecular levels. We will apply this basic knowledge to fortify the communications channels between plant cells, enhancing resistance against bacterial pathogens.
Kyaw Aung, Panya Kim, Zhongpeng Li, Anna Joe, Brian Kvitko, James R. Alfano, Sheng Yang He. (2020). Pathogenic bacteria target plant plasmodesmata to colonize and invade surrounding tissues. Plant Cell https://doi.org/10.1105/tpc.19.00707