Fan et al. explore how ubiquitin-dependent proteolysis regulates the levels of active kinase in plant responses to osmotic stress.
https://doi.org/10.1093/plcell/koad173
Wei Fan and Zixing Li
School of Agriculture and Biology, Shanghai Jiao Tong University, Shanghai 200240, China
Background: Plants experience osmotic stress during drought conditions and in soils with high salt levels. Osmotic stress triggers a rapid rise in intracellular calcium ion (Ca2+) concentrations in plants. Upon the binding of Ca2+, the calcium-dependent protein kinase (CPK) undergoes a conformational change, releasing the kinase active site from the repression of an autoinhibitory junction. CPKs become active to phosphorylate their downstream targets to transduce osmotic stress signals. CPK4 plays a positive role in plant osmotic stress responses.
Question: How are active CPK4 protein levels dynamically and precisely regulated in response to hyperosmotic stress?
Findings: We found that salt/mannitol-induced osmotic stress promotes CPK4 protein accumulation by disrupting 26S proteasome-mediated degradation of CPK4. The U-BOX E3 ligase PUB44 interacts with and mediates the ubiquitination of CPK4, which results in the proteasomal degradation of CPK4. PUB44 exhibits a CPK4-dependent negative role in plant osmotic stress responses. In addition, we found that Ca-binding and kinase activation decrease the ubiquitination of CPK4 and enhance CPK4 protein stabilization.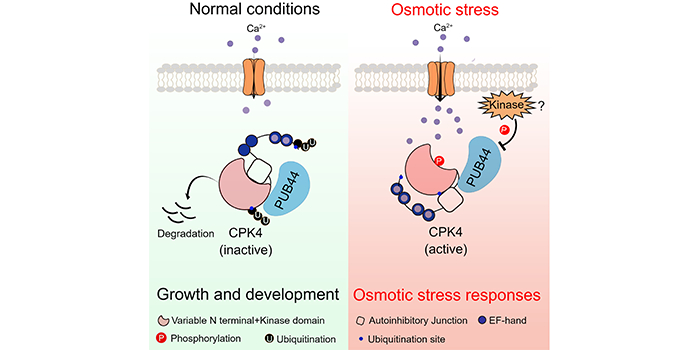 Next steps: We plan to investigate how the binding of Ca2+ to CPK determines the ubiquitination and degradation of CPK4.
Reference:
Wei Fan, Xiliang Liao, Yanqiu Tan, Xiruo Wang, Julian I. Schroeder, Zixing Li. (2023). Arabidopsis PLANT U-BOX44 down-regulates osmotic stress signaling by mediating Ca2+-DEPENDENT PROTEIN KINASE4 degradation. https://doi.org/10.1093/plcell/koad173
背景回顾:渗透胁迫条件下,植物胞质自由钙离子浓度会快速上升。钙依赖的蛋白激酶(calcium-dependent protein kinase,CPK)结合细胞内钙离子,蛋白构象发生改变,释放自抑制域对激酶活性的抑制,并通过自磷酸化或其他激酶的磷酸化而激活,激活的钙依赖的蛋白激酶磷酸化下游底物蛋白,激发植物渗透胁迫信号,使植物响应渗透胁迫。CPK4在植物响应干旱胁迫时作为正调因子发挥重要作用,促使植物细胞调节自身生理活动以响应环境渗透胁迫
科学问题:在渗透胁迫条件下,植物如何精确调控CPK4蛋白的机制尚不清楚?
研究发现:我们鉴定到一个U-BOX类型的E3泛素连接酶PUB44,能够识别并泛素化修饰CPK4 促其通过26S蛋白酶体途径降解,调节细胞内CPK4的蛋白丰度。渗透胁迫信号下,CPK4结合钙离子,蛋白发生构象改变,减弱PUB44泛素连接酶对CPK4蛋白的泛素化修饰程度。同时,渗透胁迫信号还会抑制PUB44蛋白的泛素酶活性,进一步降低CPK4蛋白的泛素化修饰水平。通过这些方式,植物细胞在正常环境下维持一定CPK4蛋白的丰度,并在胁迫条件下快速增加CPK4蛋白的含量,激活细胞适应性生理活动来响应渗透胁迫
展望未来:我们将进一步探究CPK4结合钙离子,蛋白构象的变化是如何影响CPK4蛋白的泛素化修饰。为什么CPK4蛋白丰度特异受到盐、渗透胁迫,而非温度和营养胁迫的调节。