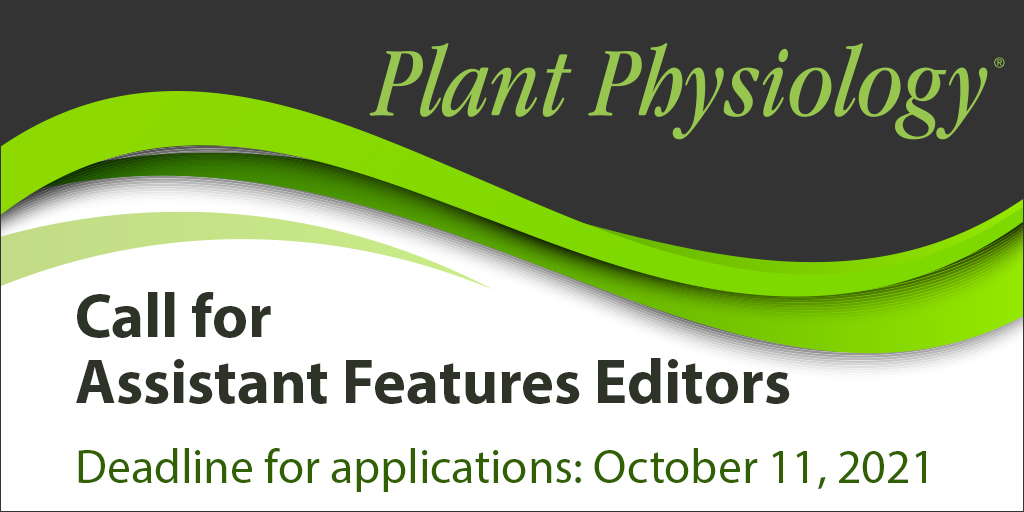 Thank you to all who submitted applications for this program. The deadline has now passed and we will be evaluating the applications and announcing those selected later this year.
This past January, Plant Physiology welcomed 16 new Assistant Features Editors to the editorial board. Together with Assistant Features Editors recruited in 2020, these young scientists have brought their passion for science to the journal, communicating to our readers some of the most exciting developments at the forefront of global research in plants today.
The Assistant Features Editors have helped shape and expand our content through commentaries, blog posts, and related material highlighting the "here and now" of Plant Physiology and bringing awareness of matters of special interest to the community. They have gained professionally, too, and will build on their experience going forward, just as, for us, working with the Assistant Features Editors has proven immensely satisfying.
We are now preparing to recruit a new cohort of Assistant Features Editors to join the Plant Physiology editorial board, replacing some of the current members who will step down from their roles with the journal. This new cohort will work with the journal for 24 months beginning in January 2022.
If would like to be considered for this program, please submit your application materials by October 11, 2021.
Send your application to PPAFEapplications@aspb.org with Plant Physiology AFE application as the subject. These materials should include
Cover letter
CV
First-authored paper
Contact information for two referees
Sample News and Views, on one of the papers listed below
NOTE – Please email Mary Williams mwilliams@aspb.org if you have difficulty accessing the paper you would like to write about.

A plant-specific syntaxin-6 protein contributes to the intracytoplasmic route for the begomovirus CabLCV
Triacylglycerol remodeling in Physaria fendleri indicates oil synthesis is dynamic not a metabolic endpoint
A network of stress-related genes regulates hypocotyl elongation downstream of selective auxin perception
GmRAV confers ecological adaptation through photoperiod control of flowering time and maturity in soybean
Phloem unloading via the apoplastic pathway is essential for shoot distribution of root-synthesized cytokinins
Inactivation of mitochondrial Complex I stimulates chloroplast ATPase in Physcomitrium patens
Seawater exposure causes hydraulic damage in dying Sitka-spruce trees
The metabolomic landscape of rice heterosis highlights the pathway biomarkers for predicting complex phenotypes
Sheet-like clay nanoparticles deliver RNA into developing tomato pollen to efficiently silence a target gene
News and Views articles are intended to provide readers with a brief summary of the main findings of a recent research article, along with relevant and interesting background information and a brief commentary on why the findings are important. The text is limited to approx. 800-1000 words and a maximum of 10 references (including the highlighted paper). The News and Views articles may be accompanied by an image, for example a panel from an image in the paper or a diagram you prepare that summarized the key findings. You may wish to read examples of published News and Views articles to familiarize yourself with the style and format. Good examples can be found in any recent issue of the journal, e.g., https://academic.oup.com/plphys/issue/186/3.