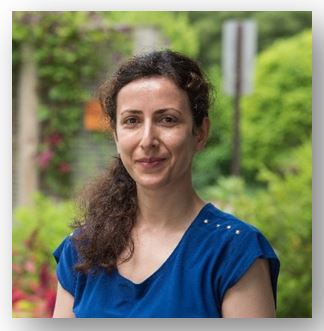 I am Maryam Rahmati Ishka. I am a postdoc at Boyce Thompson Institute (BTI) in Ithaca, New York, doing research on plant stress resilience. I joined ASPB's Women in Plant Biology Committee in 2021 as an Early Career Representative. Being an international scholar woman from Iran, I (and other women similar to my situation) have had to sacrifice a lot to get to the place where I am right now. Being in the US among so many prestigious scientists, I feel I am living my scientific dream. I am here only because of the support I have received along the way from outstanding mentors, friends, and family. Without their unlimited and unconditional support, I would not be here. I always admire women in science but in particular, I wanted to say THANK YOU to those who made significant remarks on my scientific fate and ambition as an international woman scientist. I would like you to know all these inspiring and amazing women in science!
Faezeh Ghanati – The Hidden Mentor
Faezeh was my master's degree mentor back in Iran. She had just returned to the country from Japan, where she received her PhD. As a newly appointed professor at Tarbiat Modares University, I was among one of her first mentees. I am so grateful for the mentorship she provided me firsthand. She taught me basic biological techniques such as tissue culture, enzymatic assay, histology, step-by-step, as well as scientific writing. As proof of her excellent mentorship, I published four manuscripts from my master thesis, which was unique among students at my level at the time. Throughout my career, I expanded my skills in biology with the foundation I have been taught by her. She was a nice and very caring person that everyone enjoyed working with her. At this level of my career here in the US, I acknowledge her as my true first mentor behind all my scientific and personal accomplishments.
Katie Dehesh – The Power of Woman
I met Dr. Katie for the first time on May 2022 at Gordon Research Conference in Les Diablerets, Switzerland. I knew Dr. Katie from her outstanding research long before I come to the US. Once at the conference, I took a chance to introduce myself to her at the breakfast table. She was so welcoming and easy to communicate with. I almost wanted to cry not because Dr. Katie was famous and president of the ASPB but because she was a woman from Iran, from my motherland. I felt so attached to her personality, her powerful talk during the conference that left the entire room eager to listen, and most importantly, to her POWER! We took a hike together during the conference and visited a cheese factory. During the trip, I enjoyed her company. Everyone in the group liked her because of her cheerful personality. Soon after, I was lucky enough to see Dr. Katie at my institute, Boyce Thompson Institute at Ithaca, where she gave a powerful speech on her career accomplishments. Once again, I witnessed her powerful spirit and how much she meant to the scientific community. Being a woman scientist from Iran, I am inspired by Dr. Katie's power as a leader, scientist, and, most important, as a woman.
Eva Farre and Rebecca Roston – The Inspiring Mentors and Leaders
I met both Eva and Rebecca in 2021 upon joining ASPB's Women in Plant Biology Committee  as an Early Career Representative. Since then, I have learned so much from both of them particularly as I worked closely with them. Eva with her passionate leadership style is always supportive and welcomes any new idea from the member. Rebecca with her frank personality taught me to be not afraid of sharing my opinion in difficult situations and make the right and fair decisions. Given that Eva and Rebecca are both mothers is even more inspiring to be grateful for their mentorship on my career.
Magdalena M. Julkowska – The Adventurous and Supportive Mentor
I started to work with Magda at the end of 2020 when COVID was still prominent. I remember before joining her team, she promised me that I am going to have fun! Well, after two years, believe it or not, I am having fun in my research. Magda gave me the flexibility I need to explore my research and provided me with unlimited support and tools I need along the way. Indeed, it was Magda who offered me to become a member of ASPB, to apply to be an Assistant Features Editor at The Plant Cell, and to take my first international trip to the Gordon Research Conference in Switzerland. I am forever grateful for all her support as a mentor.
______________________________________________
About the Author
Maryam Rahmati Ishka is a postdoc at Boyce Thompson Institute (BTI) in Ithaca, New York, doing research on plant stress resilience.