By Dolf Weijers
In 2022, The Plant Cell will publish a Focus Issue on Plant Cell Biology. This will only be the second Focus Issue (FI) to be published in the journal, after the inaugural FI on the Biology of Plant Genomes, to appear in 2021. (Many years ago, the journal occasionally published Special Issues, and we are excited to be reviving this activity.) It is an honour and great pleasure to act as editor of this FI, together with Magdalena Bezanilla, Liwen Jiang, Adrienne Roeder and Mary Williams.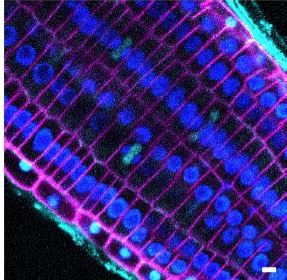 The field of plant cell biology has seen so many exciting discoveries over the years, and continues to be a source of amazing findings. Of course, it is hard to draw hard lines to demarcate where cell biology ends or begins. In fact, considering the cellular unit is a way of looking at any biological process, and the field of cell biology encompasses that vista on the plant. Therefore, as editors we have chosen to highlight the broad scope of plant cell biology in this FI with a series of authoritative review articles, written by experts in the field, often in close collaboration between different research teams. We are truly excited by the great resonance this FI finds in the community, and expect that the series of review papers will make this FI a true milestone in the field of plant cell biology.
We are obviously greatly looking forward to receiving exciting original papers for this FI. The Plant Cell regularly publishes important papers in the field of plant cell biology, but presenting a slate of excellent papers, along with a set of reviews and editorials, will undoubtedly increase the visibility of those original papers, and help showcase the very high quality that this field has. To further increase visibility of the papers and authors published in this FI, we will offer the first author of each paper to prepare an author profile to be published along with the paper and shared on social media. Also, we will offer the authors of selected papers in the FI to present their work in a short talk during a Plantae Presents Webinar. Thus, there are a number of good reasons to consider submitting your best work to this FI.
The deadline for submissions is May 1st 2021, and we are very happy to already see a substantial number of submissions for the FI.
When preparing this FI, it became very clear to us how broad the field of plant cell biology is, and what great achievements have been made in the past. With ever-improving technologies, it is to be expected that this field will keep developing, and we expect this FI to provide a glimpse into the future of plant biology.
As editors, we invite you to consider submitting to this FI, and welcome requests for information, or queries about suitability of the manuscript you have in mind. Please contact Dolf Weijers (dolf.weijers@wur.nl) or any other editors for questions.