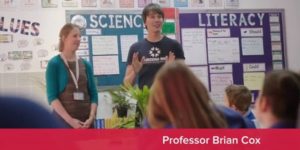 This resource provides a set of videos and a practical investigation aimed at supporting working scientifically in the classroom and relating science to real world experiences. In the first video Professor Brian Cox joins a teacher to find out how to set up and run an investigation to find out if plants need soil to grow. Children try to germinate and grow plants from a seed using a variety of different materials instead of soil. Further videos show Brian Cox visiting an Industrial farm to find out about how they grow vegetables in a building and meeting a researcher looking at soil health.
A written resource, provided by Science and Plants at Schools, (SAPS), guides teachers in running the investigation in class.
Here is the link to the teacher's guide and videos https://www.stem.org.uk/elibrary/resource/314741/do-plants-need-soil-grow
This resource has been provided by the Royal Society.