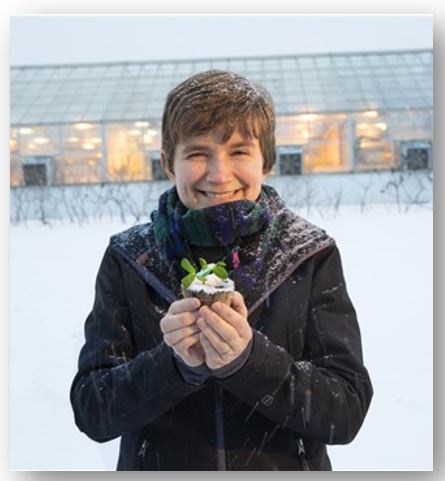 I am Rebecca Roston. I am an associate professor at the University of Nebraska-Lincoln, where I lead a lab focused on understanding the role of membrane dynamics and redox in maintaining plant health. Our long-term goal is to unravel the mechanisms by which membrane lipids and proteins respond to changes in the environment, both as signaling molecules and as physical barriers against biotic and abiotic stresses.
My academic journey started at the University of California-Davis, where I earned my PhD under the mentorship of Kentaro Inoue on chloroplast protein targeting. Later, I pursued a postdoctoral fellowship at Michigan State University with Christoph Benning, where I expanded my knowledge of plant lipid metabolism. I also enjoy teaching and have taught courses in macromolecular structure and metabolism to undergraduate students, as well as an advanced course on enzymes to graduate students. I have been an active member of the Women in Plant Biology Committee of ASPB, a professional society dedicated to advancing the field of plant biology and supporting the career development of women scientists, since 2020.
Maryse Block – The Legend
Toward the end of my graduate studies, I found myself contemplating my future paths. My work on protein targeting in the chloroplast led me to dive deep into the literature on chloroplast membrane biogenesis and fractionation, with M. A. Block and R. Douce's papers serving as my primary sources. Their research on fractionation proved instrumental to the success of my experiments, and I considered their work to be my "bibles."
M. A. Block's contributions, however, went far beyond just fractionation. Her seminal papers covered a wide range of topics, from the localization of enzymes involved in lipid synthesis and prenylquinone synthesis to comparisons between algal and land plant chloroplasts. She also provided detailed protocols on conducting protease protection assays and lipid transfer experiments.
M. A. Block was one of my science heroes, and I was thrilled to meet her in person at a Gordon Conference on Plant Lipids during my senior post-doctoral years. To my surprise, I discovered that M. A. Block was a woman and a delightful one at that. I spent as much time talking to her as I thought would not be annoying, and she was gracious and encouraging in her interactions with me. Her enthusiasm for her scientific pursuits was contagious, and I was thrilled to meet one of my scientific heroes and discover that she was one of the kindest and most supportive scientists I had ever encountered.
Today, when students approach me with a sense of awe, I am reminded of the graciousness with which M. A. Block treated me. As a scientist, she valued my sincere opinions on her latest research and listened intently to my responses. Her ability to treat others with kindness and respect while pursuing groundbreaking research is a true inspiration, and I am grateful for the impact she has had on my life and career.
Hsou-Min Li, Li Tian, and Eva Farre – The Indominable Mothers
I have always wanted to have children. I simply knew my life would not be complete without them. Midway through graduate school, I was starting to get concerned. As a graduate student, I started to worry if it was possible to balance family and a career in science. Most of my mentors and faculty members were male, and the few women were incredibly busy. Around the time I started questioning this, Hsou-min Li of Academia Sinica came to do a sabbatical with my PI. She brought her success, her academic goals, and her kindergarten-aged daughter who she loved, spent time with, and was graciously willing to tell me about. She gave me hope, but I still had questions about being pregnant and being a scientist.
A year or so before I left graduate school, Li Tian started as a new faculty member in the same building. She was strong, hardworking, and, shortly after starting, pregnant. I think I may have embarrassed myself with the number of questions I asked her. She was so kind to me, answering each one thoughtfully and patiently. I admired her courage and planning, and I decided to have a child after becoming a PI. Later, I saw Eva Farre, a neighboring PI in my post-doc lab, go through a similar process.  I had more perspective by then, and I could see Eva worked incredibly hard to balance family and the tenure process.
Now, my son is 5 years old. I had him when I got my own office. It is challenging, but it is also worth it. I'm grateful to the women who helped me see a path to balancing family and science.
Katie Dehesh – Power
As a naturally stubborn perfectionist, I have always been driven to succeed, but my singular focus on science had stunted my social skills. In grad school, I quickly discovered that my passionate defense of academic points was often viewed as overly aggressive, which left me disheartened because I am also passionate about peace.
Fortunately, I had the privilege of crossing paths with Katie Dehesh, a PI at the same university. If you have met Katie, and I very much hope you have had that experience, you know firsthand of her indomitable spirit and unwavering strength. She is powerful. From her I learned that you can debate, and successfully. More important, I learned that my passion can also be turned inward as a driving force for overcoming my own fears and moving toward my goals even as I remain frightened of failure. Katie's example has been invaluable to me, and I am forever grateful for the lessons I have learned from her.
______________________________________________
About the Author
Rebecca Roston is an associate professor at the University of Nebraska-Lincoln. The work in her lab focuses on understanding the role of membrane dynamics and redox in maintaining plant health. You can find her on Twitter at @Rebecca_Roston.