Contributed by Wei He, an Associate Professor in Northwest University, Xian, China.ORCID iD: 0000-0003-1236-3047.
You can read this post in Chinese here.
I started teaching "Advance Plant Physiology and Biochemistry" for postgraduate students in Northwest University in China in 2013. In preparation for the module I came across the Teaching Tools in Plant Biology and immediately I felt this is the right one I was looking for.
There are several strengths in the Teaching Tools which are beneficial to research students. Firstly, I am particularly impressed in that the Tools are oriented in an experimental, analytical and logical way. Each chapter (theme) contains review-like lecture notes which orchestrate classic and the latest research in the field. Then the notes are represented by a PowerPoint presentation which contains illustrations, schematics and experimental graphs from original work. This is in accord with the nature of Plant Biology that is based on pursuing evidence.
During my teaching, I tend to spend more time when I feel it is necessary to stress to the students to follow the underlying logic of experimental designs and results. For example, during P starvation, small RNAs are induced and mobilized from shoot to root to instruct P accumulation localized in root. By understanding the necessity of setting up the five experimental groups (shown in the slide below), students will inevitably think carefully when it comes to designing their own experiments.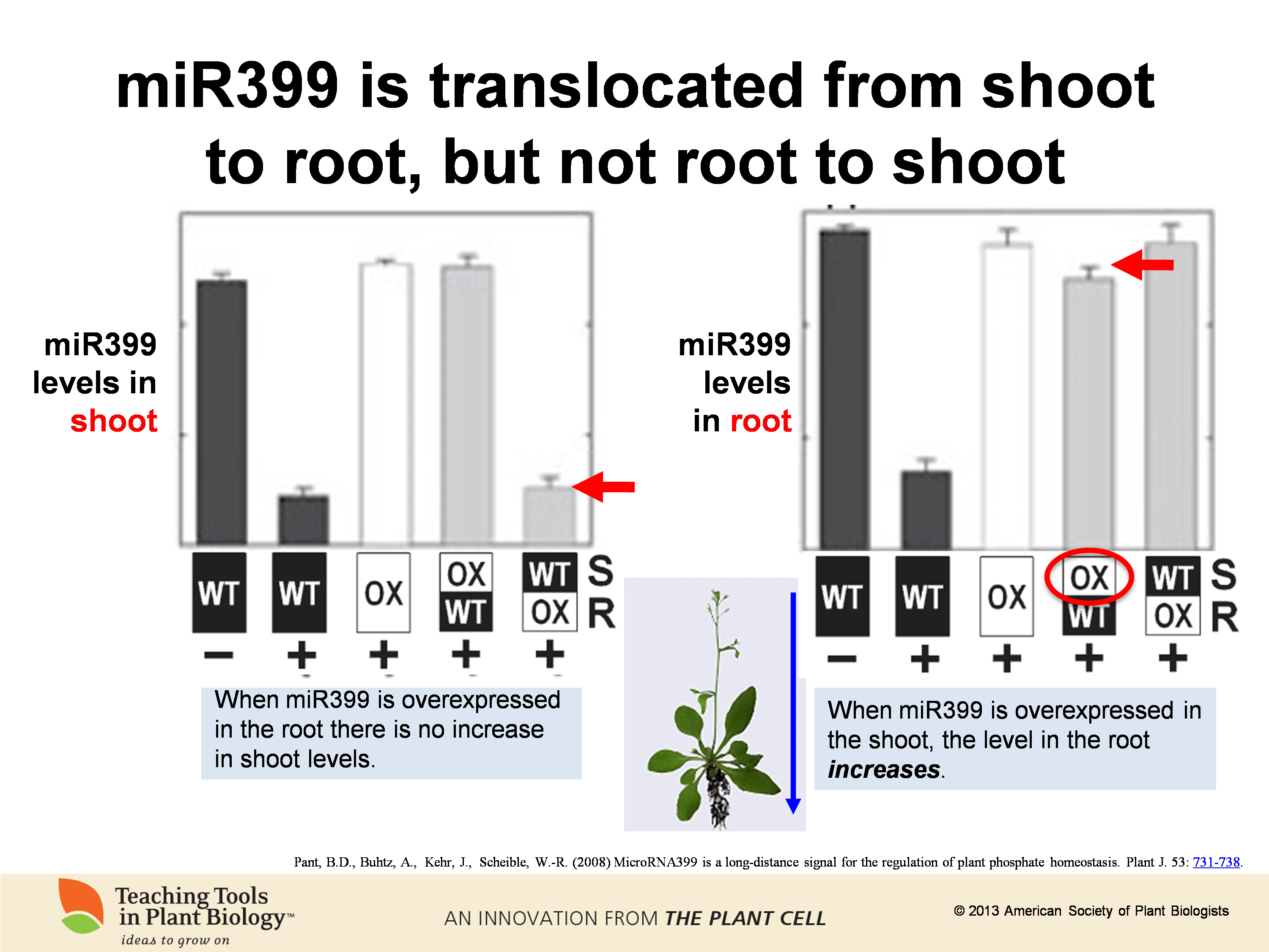 Secondly, concepts and conclusions are kept short, simple, and vivid. For instance, the examples of Mona Lisa and the Acropolis temple are used to demonstrate the golden ratio of the angle between two primodia in spiral phyllotaxy. There are many other impressive examples in the Tools, which help a great deal for the students to reflect rather than to remember those findings. Thirdly, each chapter is written and produced by one of the leading plant biologists and is updated regularly, and thus will illustrate the frontier in relevant topic.
The other advantage of using the Tools to teach is to improve the students' language ability. In 2019 China has arguably become the country that produce the largest number of academic papers in the world. However, English proficiency is still a common problem for most students in academia. This would hinder them from becoming internationally competitive in science because communication is key with the fast development in any discipline.
In my teaching I asked the students to preview lecture notes and revise after the class. Initially it took some time for them to familiarize themselves with another language but after one term they became more proficient and natural to use English in reading and writing. It was not possible to use English as the only speaking language in the class considering their listening and oral fluency. However, mastering many of the relevant academic vocabulary, especially their pronunciation helped my students understand better when they attended international conference, as they told me afterwards.
There are other transferable skills students can learn from the Tools. For examples, presentation is one of the most important skills that research students need in their following study. From the Tools they could get a hands-on experience of how a good presentation should look like, including how it is organized and structured, what elements it should have, and even which font is better for the audience. I also divided the students into groups for discussion, in which they develop their teamwork. Students with different personalities were able to find their roles in group discussions, which helped build their confidence and maximized their strengths in analysis, presentation, leadership, and others, respectively.
Mid-term exams would often involve writing an essay in a topic they chose within the scope of plant science. Therefore, in year one of their three-year training students could learn to write a small thesis using the lecture notes as some of the best examples. Such transferable-skills focused modules are scarce in postgraduate trainings in China but extremely helpful for the students' academic career. I also sent feedback questionnaires to the students at the end of the module, listening to their voice and asking their opinions to improve the module. In such way I encouraged them to be more confident in expressing their needs in learning.
In 2020, with the outbreak of COVID-19, many teaching modules have been switched on-line. This might have explained that in this year the groundbreaking Teaching Tools in Plant Biology have attracted more attention within the plant science community and started to get recommended and circulated around online academic media in China. This further convinced me that my choice made seven years ago was right.
Although using the Teaching Tools will require the teacher be more familiar with the modern way of thinking and teaching, English language ability and the desire to innovate, based on my own experience, I encourage more colleagues to use the excellent Teaching Tools in Plant Biology developed by a wonderful team led by Prof. Mary Williams from The Plant Cell. Once determined to start, such teaching will bring immense benefit to the students in building their academic careers.