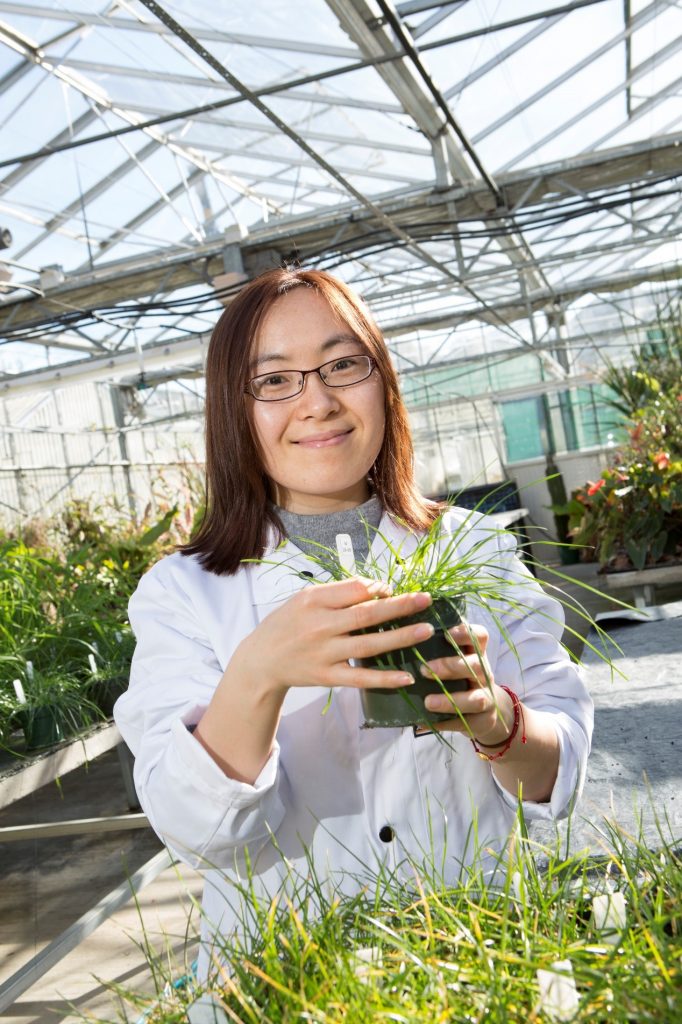 In this paper, we characterize transcriptome and metabolite profiles of maize plants under single and combined drought and cold stresses, and reveal an ABA-dependent maize acclimation mechanism to the stress combination.
Current Position: Lecturer, School of Grassland Science, Beijing Forestry University, China.
Education: PhD in Cellular and Molecular Biology at Canterbury University, New Zealand.
Non-scientific interests: I enjoy painting, reading and get to know different cultures and backgrounds, and have visited many places including New Zealand, France, Australia, Spain, Singapore and Hong Kong.
Brief bio: During my PhD, I focused on investigating the impact of carbohydrate reserves on nitrate uptake and assimilation in Lolium perenne. After getting my PhD I did a post-doc in the lab of Wenbin Zhou at Institute of Crop Sciences, Chinese Academy of Agricultural Sciences (CAAS) working on plant response to combined stresses in maize and TRM5-mediated tRNA methylation in Arabidopsis. In the current position, I contribute to addressing the internal and external constraints on plant resource acquisition (e.g. nitrogen and carbon) in response to variation in environment. In addition, one of my main task is doing lecture and supervision of students, which I enjoy very much.
标题:Plant Physiology 第一作者,北京林业大学 郭倩倩
姓名:郭倩倩
目前职位:北京林业大学草业与草原学院教师
教育背景:硕士就读于中国农业科学院生物技术研究所;博士就读于新西兰坎特伯雷大学。
兴趣爱好:阅读、画画、旅游、户外运动
个人研究简介:
2013-2017年我在新西兰坎特伯雷大学攻读博士期间主要致力于多年生黑麦草碳氮互作机制研究;2017年博士毕业回国后加入中国农业科学院作物科学研究所周文彬课题组进行博士后研究,主要从事于作物应对环境胁迫的响应机制、拟南芥tRNA核苷甲基化修饰酶的鉴定与功能研究;2019年任职于北京林业大学草业与草原学院,主要致力于多年生禾本科牧草源库互作和产量构成、牧草养分吸收利用效率的生理与分子调控机制等研究。
在这篇文章中,我们结合转录组学和代谢组学揭示了苗期玉米在干旱冷害联合胁迫下,干旱能够缓解冷害造成损伤的机制,并进一步验证了联合胁迫下干旱诱导产生的植物激素脱落酸(ABA)在增强植物冷害耐受性中具有关键作用。