It's a new year and time to look at conference opportunities. Most of us choose conferences based on theme, size, opportunity to present, location and cost. When weighing your options, another factor you might consider is what sightseeing opportunities are available before or after the conference. To that end, we invited organizers of a few of the major plant science conferences to share some suggestions. Check the conference websites for more information: deadlines for travel grants and consideration for speaking slots are looming!
Plant Biology 2018, July 14-18, and From Light to Life: An International Society of Photosynthesis Research meeting, July 17-20. Montreal, Canada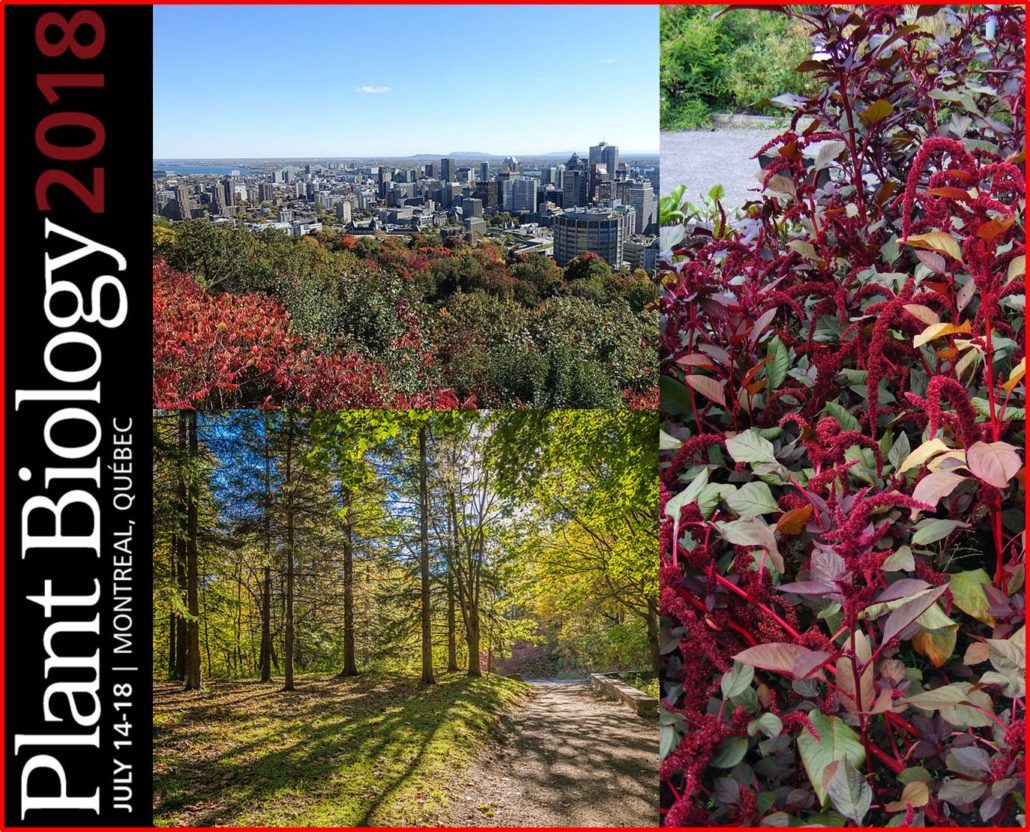 Plant Biology 2018 is a joint meeting of the American Society of Plant Biologists, Canadian Society of Plant Biologists/Societe Canadienne de Biologie Vegetale, and the International Society of Photosynthesis Research  https://plantbiology.aspb.org/
Things to see in or near Montreal
Montreal Botanical Garden: This is a must-see for any visitor to Montreal (http://m.espacepourlavie.ca/en/botanical-garden). It is a large garden with 22,000 plant species and cultivars, 10 exhibition greenhouses, and more than 20 thematic gardens spread out over 75 hectares. One of the more intriguing displays is the Courtyard for the Senses, designed for the visually impaired, that invites the visitor to explore the plants through smell, touch and taste. There is a metro line that will take you from the conference site to the Botanical Garden in less than 30 minutes.
Mount Royal Park: Mount Royal gives its name to Montreal, and is located centrally not far from the conference center. The park is full of walking paths, cafes and pond with boat rentals, and has spectacular views of Montreal City.
In the other direction, you can take the metro to Parc Jean-Drapeau, where you'll find the Biosphere with features on the envionment, a park, a riverside walk with views of downtown, and Jean-Doré Beach.
Even if you time is very limited, be sure to visit Old Montreal (Vieux-Montréal), which is adjacent to the conference site.  A highlight of this neighborhood is the beautiful 200 year old Basilique Notre-Dame. Montreal is also known for its good food and coffee, so even your lunch breaks can be a great experience. For more informationn see http://aspb.alamontreal.com/. I hope to see you there!
International Plant Molecular Biology (IPBM 2018) 5-10 August. Montpellier, France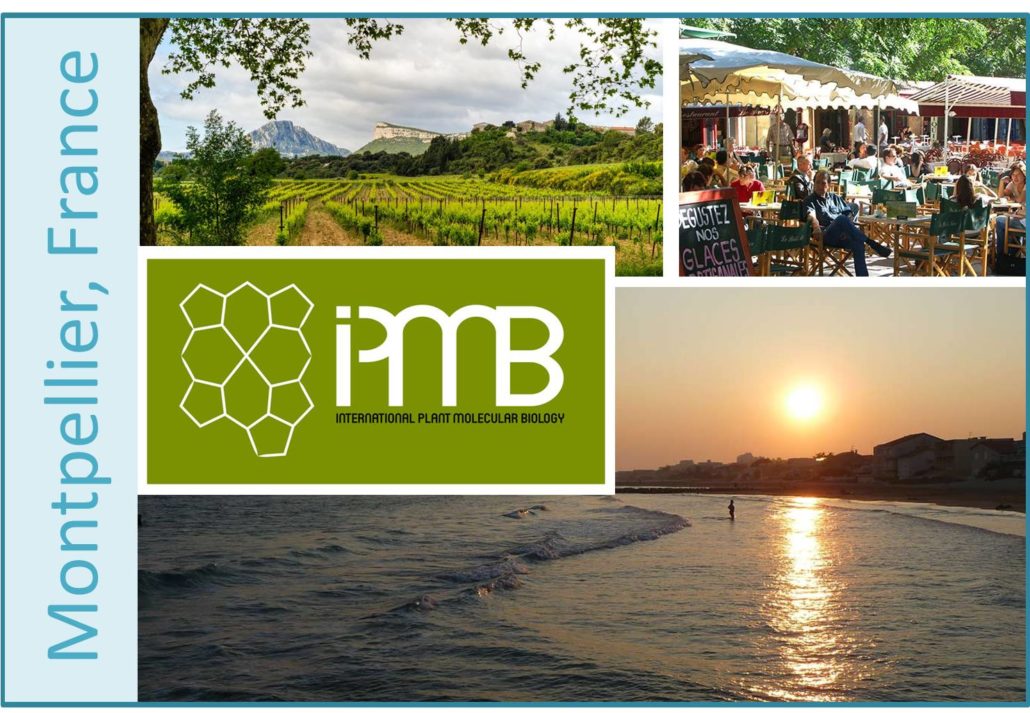 The IPMB congress is a triennial meeting gathering 1500-2000 plant molecular biologists from all over the world since 1984. The program will highlight major discoveries from basic molecular biology to crop biotechnology and demonstrate the importance of plant molecular biology for the development of an ecologically intensive farming.
Things to see in or near Montpellier (Thanks to Jean-Benoit Morel and Claire Faillie)
To give you a first idea please have a look at this 1min30sec movie.
A walk in the historical center of Montpellier very close to the conference ​building of IPMB2018 with its medieval streets, the old faculty of medicine and the botanical garden (the oldest in France, established in 1593 and just 15 minutes walk from the conference) would definitely be must-sees in Montpellier​. But there are many others beautiful parks and gardens in Montpellier. You'll also find museums, cafes and excellent food.
Montpellier is close to some beautiful Mediterranean beaches that are accessible by car or bus or bike. At Villeneuve-lès-Maguelone you can find the Maguelone Cathedral and a nice reserve with birds, (the beach is nudist for some part…). It's 20 minutes drive towards the beach, and crowded during summer time.
There are many more places (less than 1hr drive) like horse-back riding. you will have many options : hiking, climbing, swimming, wine-tasting, canoeing…. Just a quick look here, I think the pictures speak for themselves. Hiking and wine tasting around the Pic Saint-Loup are 30 minutes by car or one hour by bus (Montpellier can be hot in August, so plan to hike in the morning).
And if you're willing to go a bit farther afield, you can get to the fortified city of Carcassonne in 1.5 hours by train, Perpignan in 2 hours, Avignon in 2 hours or Aix-en-Provence in three hours. The Mediterranean coast of France is lovely!
International Conference on Arabidopsis Research (ICAR), June 25-29. Turku, Finland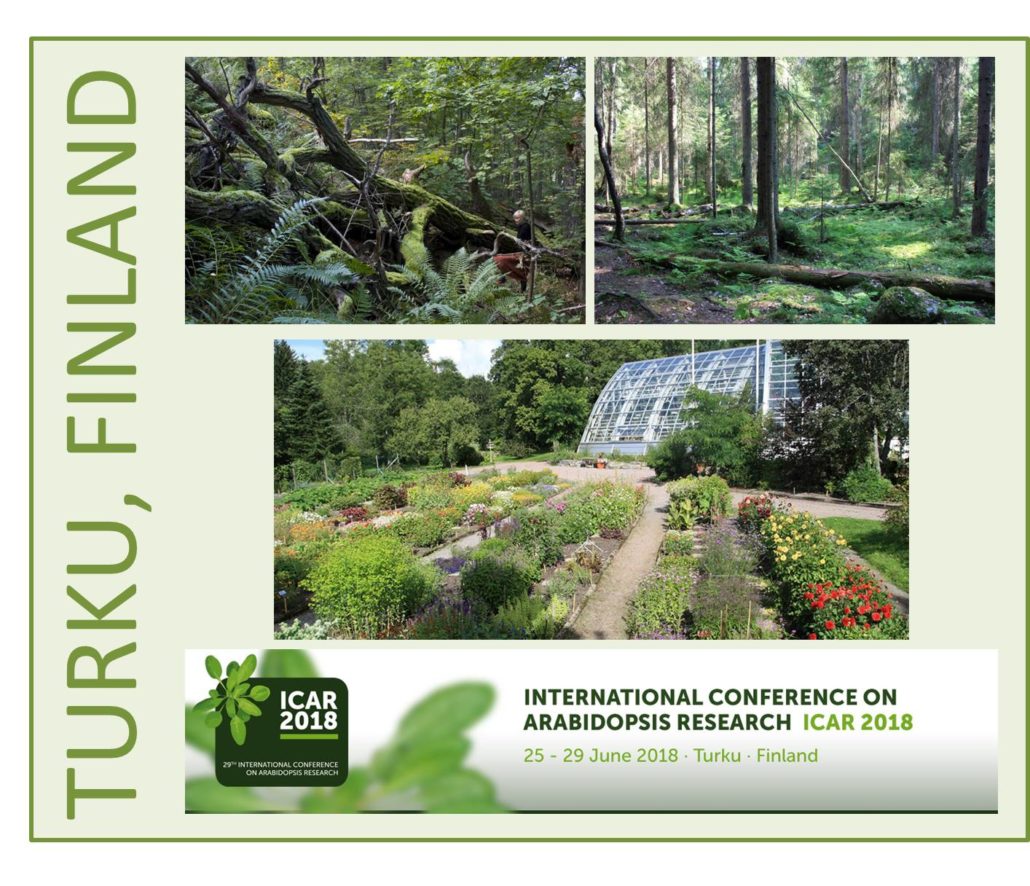 The International Conference on Arabidopsis Research is a yearly conference rotating between North America, Australasia and Europe. The conference is centered on all aspects of modern plant biology using thale cress (Arabidopsis thaliana) as a model system, and covers all aspects of molecular plant science from research on plant growth and development to improving plant tolerance to adverse environmental conditions.
Things to see in or near Turku (provided by Michael Wrzaczek)
Turku is the oldest city in Finland, established in the 13th century, and features a fine castle (site of the optional conference dinner) and cathedral, as well as many museums including a Sibelius museum. There are many opportunities to experience nature in Turku also, including:
Ruissalo Island: Ruissalo is an island located south-west of the city centre and it is one of the districts of Turku. The nature on the island is very diverse – there is a beautiful forest with ancient oak trees. Throughout the forest, there are hiking trails that you can explore. The island is easily accessible by land or by sea.
The Turku University Botanical Garden: The Turku University Botanical Garden operating on the Island of Ruissalo is both a centre for scientific research and a public showcase for the fascinating world of plants. The outdoor and indoor gardens display over 5000 species and varieties of plants. In the greenhouses are a wide range of succulent plants and a collection of tropical species.
Kurjenrahka National Park: Kurjenrahka National Park includes the largest mires of Southwest Finland which are in their natural state, and the surrounding forests, of which some are old. On Savojärvi Trail you can hike through a beautiful landscape following the shores of Lake Savojärvi in national park Kurjenrahka. It gets its name from the marshland habitat of the elegant long-legged cranes, but boasts all sorts of flora and fauna.
Other destinations: Turku National Urban Park, Turku outdoor recreation Islands: (Vepsä, Pähkinäinen, Maisaari), Arboretum Yltöinen in Kaarina, Kankas Manor
Plant Biology Europe (PBE 2018), June 18-21. Copenhagen, Denmark
Plant Biology Europe is a biennial event jointly organized by FESBP and EPSO. It takes a multidisciplinary approach to plant science in a global context, with presentations that cover wide ranging scientific and policy related themes within plant science, thereby showcasing state-of-the-art scientific developments and contributions to policy shaping towards plants science at the European and national levels.
Things to see in or near Copenhagen (Thanks to Cathie Martin and Micky Palmgren)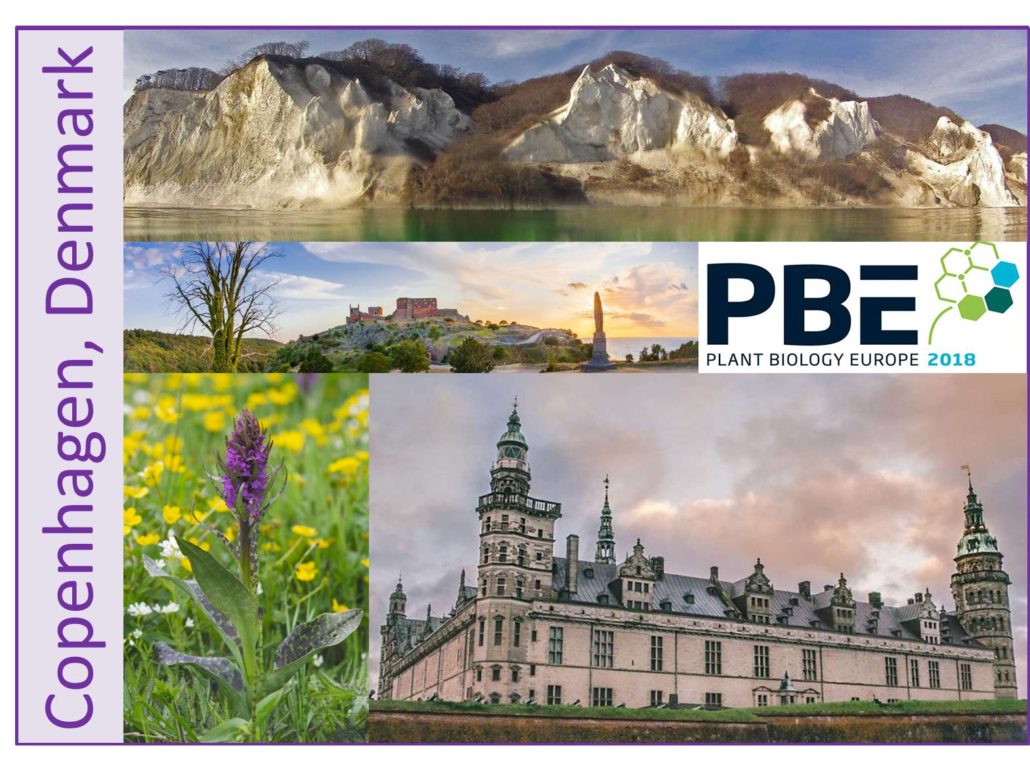 Copenhagen is the capital and most populous city of Denmark, and is described by Lonely Planet as "the epitome of Scandi cool." It is a good idea to rent a bicycle whilst in Copenhagen. Bikes can be hired from hotels or bicycle shops. These will facilitate travel within Copenhagen and outside because they can be taken on the train or on the metro.
The Copenhagen Botanical Garden is in the Center of the city. It is famous for its glass houses dating from the 19th century. There are also nice gardens around the central administration area of the old Vetinary medicine and Agricultural University off Thorwaldensvej in Fredericksberg. There is a very good café inside which does excellent food.
Møns Klint is an area of spectacular white cliffs and hiking trails on the island of Møns. It has spectacular scenery and is a great place to see orchids blooming in June.
Helsingor is the site of Hamlet's castle Kronberg Castle, which is worth a visit. It's a pretty town with good tea/coffee shops. Take the Hornbaek railway line from Helsingor. One can walk to the Rudolph Tegner Sculpture Park at Dronningmølle (http://www.visitcopenhagen.com/copenhagen/rudolph-tegner-museum-and-statue-park-gdk499080) across fields and march. Excellent lunches and afternoon tea in the museum. One can also visit the seaside from stops on this wonderful little railway line.
The beautiful museum, Louisiana Museum of Modern Art, is located 40 kilometres north of Copenhagen and it has gained a reputation as a museum in touch with the zeitgeist of the contemporary art world. Experience international artists, concerts and lectures. One can get there by taking the train from Copenhagen to Helsingor and getting out at Hummelbaek. It is a 10 minute walk or very short bike ride. The museum is right on the sea.
You can take a boat trip to Bornholm from Copenhagen – spectacular beaches and scenery. Take a bike for easier access to interesting things.
Do you have any additional tips for any of these or any other conferences with a plant science theme? Let us know!