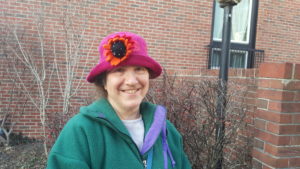 Areas of expertise
Disease resistance, cell death, plant pathogens.
Jean Greenberg is a Professor in the Molecular Genetics and Cell Biology Dept. University of Chicago, Committee on Genetics, Genomics and Systems Biology, and Committee on Microbiology. Her work examines both sides of the plant-pathogen interaction, including pioneering studies on cell death and disease resistance in plants, systemic signaling and on the roles of Type III secretion and effectors in disease caused by Pseudomonas syringae and other pathogens. At present, the Greenberg lab has extended these studies to define the roles of key defense metabolites and proteins, such as azelaic acid and AZI1 involved in defense priming. Additional new work examines how secreted effectors help P. syringae colonize a unique niche, the leaf surface, and how effectors post-translationally modify host defense proteins to cause disease.
Editorial experience
Plant Cell, Co-editor (2004-2009), Senior Editor (2010-); Molecular Plant-Microbe Interactions, Associate Editor (1997-2000); Molecular Plant Pathology, Senior Editor (1999-2002); Special issue of Plant Molecular Biology on Programmed Cell Death in Plants, Co-editor (July, 2000); Plant Physiology Monitoring Editor (2000-2004); Journal of Bacteriology, Editorial Board (2004-2006); Plant Journal Editorial Board (2004-2007); Faculty of 1000, Advisory Board (2008-); eLIFE, Editor (2012-); Annual Review of Plant Biology, Editorial Board guest member (2013).
Honors and awards include
American Cancer Society Research Fellow (1996-1999), Pew Biomedical Scholar (1996-2001).