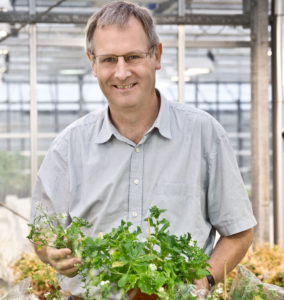 Areas of expertise
Plant development, environmental regulation of development, flowering time, Arabidopsis, transcriptional regulation, evolutionary genetics.
George Coupland is Director of the Department of Plant Developmental Biology at the Max Planck Institute for Plant Breeding Research in Cologne, Germany, a position he has held since 2001. He earned his PhD from University of Edinburgh, and was postdoctoral fellow at University of Cologne. He was Research Group Leader at the Plant Breeding Institute, Cambridge, from 1989 to 1990, and served as a Research Group Leader at the John Innes Centre from 1990 to 2001. He has conducted seminal work in Arabidopsis on understanding the molecular mechanisms by which plants detect day length and use this information to trigger flowering. His work is also focused on discovering how this process interacts with responses to other environmental signals such as temperature. More recently, he has studied the control of flowering in perennial relatives of Arabidopsis and how annual and perennial species diverge during evolution.
Editorial experience
Plant Cell, Senior Editor (2016-); Planta, Editorial Board (2010- ); Development, Editorial Board (1997-2013).
Honors and awards include
Fellow of the Royal Society (May 2007), Foreign Associate of the US National Academy of Sciences (May 2012).