The Plantae Conviron Seeding Discovery competition aims to equip a successful university or college student with a state-of-the-art plant growth chamber that will enable them to fulfill a meaningful research program in the field of plant sciences, biology, and biotechnology. 
The competition offers entrants valuable experience for all early career scientists
Eligibility, Rules and other Contest Details
About the GEN1000 Plant Growth Chamber:
The plant growth chamber awarded will be a Conviron model GEN1000 configured from the factory with a short plant kit (SH). The GEN1000-SH is suitable for research in propagation, genetics, physiology and a variety of other experiments. The unit can be situated in virtually any lab environment, is easy to install, can fit through a standard door, and includes casters with leveling feet for ease of positioning. The GEN1000 provides: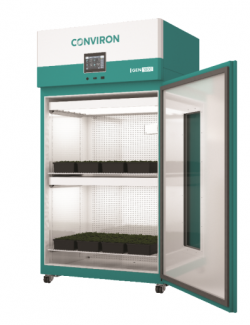 Approximately 20" (510 mm) of growth height, suitable for growing shorter plants like Arabidopsis
Moderate light of 450 μmol/m2/sec
Two fully-usable growth areas with separate lamp canopies
Horizontal airflow with shelves that can be loaded to capacity without obstructing airflow
NOTE: See GEN1000-SH specifications at conviron.com/gen1000 .  Chamber will be supplied without optional accessories.
The Seeding Discovery competition supports the overall goals of both Plantae and Conviron, building upon the collaborative spirit that underpins Plantae, the global community and knowledge hub for more than 9,000 plant science professionals, and underscoring Conviron's commitment to supporting early career scientists and nurturing their research.
Conviron recognizes that today's students are tomorrow's research leaders. By supporting the next generation of researchers, Conviron aims to achieve its vision of contributing to feeding the world, improving human health and protecting the environment by providing technology that advances plant science and production.