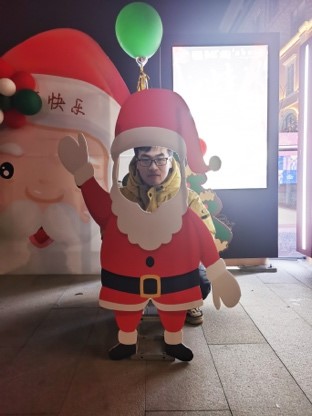 Current Position:
PhD candidate. Wang Yuanchao's group in Nanjing Agricultural University.
Education:
2011-2015, Nanjing Agricultural University, Bachelor
2015 up to now, Nanjing Agricultural University, a bachelor-straight-to-doctorate student
Non-scientific Interests:  Anime, sports
Brief bio:
I joined Prof. Wang's group in 2015. Firstly, I participated in the identification of the receptor (RXEG1) for XEG1 which is a conserved molecular pattern of Phytophthora sojae. After this work, I started trying to identify novel Phytophthora molecular patterns for a better understanding of plant extracellular recognition of Phytophthora. AEP1 is an aldose 1-epimerase secreted by Phytophthora sojae and highly expressed during infection stage. AEP1 is conserved among Phytophthora and recognized by various plants as a molecular pattern. AEP1 is also a virulence factor contributes to P. sojae virulence by mediating the uptake of extracellular sugars. Based on our work, we proposed such a model: During infection, Phytophthora secrets AEPs to promote sugar uptake for colonization, plants recognized AEPs to initiate defense responses against Phytophthora. Finishing this work, I will continue to work on the apoplast interactions between plants and Phytophthora.
论文:
Phytophthora sojae apoplastic effector AEP1 mediates extracellular sugar uptake and is recognized as a MAMP
第一作者:
徐愿鹏
当前职位:
博士在读研究生,南京农业大学,作物免疫重点实验室,王源超研究组.
教育背景:
2011-2015, 南京农业大学,学士
2015-至今, 南京农业大学,直博生在读
兴趣爱好:
漫画
科研经历简介:
2014年进入南京农业大学植物保护学院王源超教授课题组进行本科毕业实验,期间对王老师课题组研究产生了强烈的兴趣。2015年以直博生的方式,攻读王老师的博士研究生。起初跟随课题组王燕老师,参与鉴定实验室前期鉴定到的大豆疫霉病原模式分子XEG1的植物受体研究,成功鉴定到受体RXEG1后并完成相关工作。2018年独立开展课题,课题围绕疫霉菌与植物相互作用。通过疫霉侵染分泌组的研究,鉴定到多个疫霉菌新型质外体效应子,发现其中一个编码醛醣异构酶的效应子AEP1能够作为病原模式分子,被包括本氏烟、拟南芥、番茄、辣椒、马铃薯和茄子在内的多种植物识别,并通过遗传与生化实验,发现并验证了PsAEP1能够接到疫霉菌胞外醛醣吸收的毒性机制。该工作建立了这样一个模型:在侵染早期,疫霉菌分泌AEP1促进疫霉菌胞外醛醣吸收,帮助疫霉菌的侵染定殖,相应地,植物利用细胞膜模式识别受体识别AEP1,激活免疫信号途径,抵抗疫霉菌侵染。该工作完成后,将继续围绕着疫霉菌与植物互作机制进行相关研究,从质外体空间探索改良作物对疫霉菌抗性的新途径。